"What's in a name?" muses Juliet in Shakespeare's Romeo and Juliet. She's pondering the feud between the Capulets and the Montagues in 16th century Verona, but she could just as well be picking a stock on the Chinese market.
In both Shanghai and Shenzhen, companies go to extraordinary lengths to choose names that will lure customers, though not always successfully.
Here's a good example: software developer Ultrapower (300002.SZ). Five months after it was first listed on the ChiNext, Shenzhen's start-up board, the Beijing-based firm has surpassed liquor maker Guizhou Maotai as the highest-priced stock in China, closing at 193 yuan on Monday. Is there any doubt that it takes ultra power to reach the top?
Yunnan-based biotech company Green Land (002200.SZ) was not so lucky. Its price has roughly tracked the Shenzhen Component Index since the market bottomed out at the end of 2008, lagging behind most tech stocks.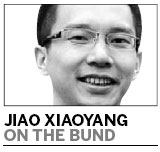 The lesson: color matters. Unlike most other markets in the world, Chinese use red to chart upward moves and green for down. In a market where many traders would feel offended to see visitors wearing green ties, this name is enough to scare potential buyers away.
Better role models would be Nanjing-based farm chemical producer Red Sun (000525.SZ); or Shenzhen-based retailer Renrenle (002336.SZ), whose name literally means "everybody is happy".
The most adorable name, however, has to be Hunan-based Panda Fireworks (600599.SH). Named after the country's most beloved animal, the only listed Chinese fireworks maker has been able to stage big shows in the market, particularly around major festivals. Its price more than doubled from July to mid-September last year before China's 60th National Day, defying a more than 10 percent tumble in the Shanghai index.
Related readings:


 Margin trading may bring in 90b yuan on A-share market


 Shanghai Index may 'drop to 2,500': brokerage


 Draft norms for overseas listings in Shanghai soon


 Nasdaq parent wants more Chinese floats
Other creatures apparently are lucky as well. Gold Mantis (002081.SZ), a Suzhou-based interior-design firm, has more than quadrupled since the end of 2008.
Fujian-based men's garment maker Septwolves (002029.SZ) ran roughly as fast. Jiangxi-based carbon-black supplier Black Cat (002068.SZ) jumped about five times in the period, outdoing Shanghai chemical company White Cat (600633.SH), which hasn't even doubled.
Consider Deng Xiaoping's famous words: "It doesn't matter whether the cat is black or white, as long as it catches mice."
The champion of animals could be Wuchang Fish (600275.SZ), a Hubei fishery company named after one of Chairman Mao's favorite dishes. It has jumped nearly seven fold in the past 17 months.
Many company names invoke great rivers or majestic peaks, but the most dynamic has to be Yellow River Whirlwind (600172.SH). With 220 percent growth in the most recent rally, the Henan-based producer of synthetic diamonds has lived up to the name of China's second longest river.
In contrast, leisure names tend to result in dull performance. Guangdong-based shoemaker Saturday (002291.SZ) has been moving sideways since it was listed last September. Why not choose a workday?
With more than 1,700 companies in the Chinese market, it's too early to tell who will be the biggest bull five years from now.
But in the contest for a bullish name, the winner has to be Royal Flush (300033.SZ). What a great name! The Zhejiang-based stock market software and Web service provider obviously understands that luck is just as important in the stock market as it is in a card game.
While there is no proof that an auspicious name leads to success, most of the companies listed above have far outperformed the market. Admittedly, they are all small companies in industries that are doing well.
Still, to compete with such established brands as Bank of China or Sinopec, it can't hurt to have an aggressive or eye-catching name.