Related publication: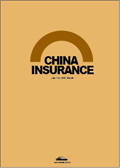 The China Insurance Regulatory Commission (CIRC) has approved in principle a draft of a report entitled "Provisional Measures on the Management of Insurance Capital Operation," the China Times reported.
The draft has been submitted to the State Council and will be published at proper time. An authoritative source said the draft contained several changes since the previous version circulated for comment was published on Dec 28, 2009.
The new draft has tightened the requirements on insurance capital investments in real estate. According to the draft, insurers' real estate investments should be within five percent of their total insurance capital, down from the six percent stipulated by the first draft. The source also disclosed that the investment channels to the real estate industry would be narrowed.
Wu Dingfu, chairman of the CIRC, said on Jan 21 that insurance capital was prohibited from investing in residential housing projects and commercial real estate, and from participating in real estate development.
The source disclosed that...
The full text is available in the March Issue of China Insurance. Please visit E-Shop for more subscription details.