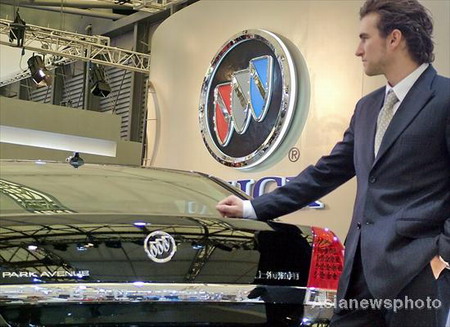 GM's Buick display area in 2007 Shanghai Expo in the file photo taken in 2007. [Asianewsphoto]
Although it is facing the biggest challenge worldwide in its century old history, General Motors has found the Chinese market is giving it a glimpse of hope for business survival.
Last year, the US auto firm harvested record profits in China, benefiting from the robust economic growth in the country.
The US automaker reported 1.83 million units sold across the country, an increase of 67 percent from the previous year.
It compared with a 46 percent year-on-year increase for China's total automobile sales in 2009, spurred by the Chinese government's prompt stimulus package for the automobile industry amid global stagnation. The stimulus included halving taxes on smaller cars with an engine capacity of or less than 1.6-liters and subsidies for trading in old vehicles.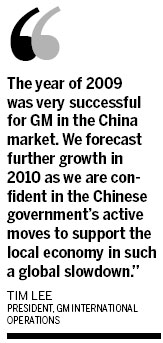 "The year of 2009 was very successful for GM in the China market. We forecast further growth in 2010 as we are confident in the Chinese government's active moves to support the local economy in such a global slowdown," said Tim Lee, president of Shanghai-based GM International Operations, which operates in all GM's markets outside North America.
"The biggest concern for a promising future here is that the Chinese government is increasing money supply," said Lee. He told China Daily that he believed China's investment climate was "still very good this year".
He continued: "GM will continue to invest business here, not only bringing more products but also adding capacity for every joint venture."
In addition to expanding its capacity through adding production shifts and developing its existing assembly lines to meet robust market demand, Lee said that GM was still considering building a new plant in China in the near future to accommodate strong growth in the world's largest auto market.
"We have enough capacity to build the cars we need to sell this year and we need to continue to look for ways of increasing our capacity. That will mean we will have to add a new plant some time in the near future," said Kevin Wale, president and managing director of GM China.
For the first two months of 2010, GM's sales in China rose 73.6 percent from a year earlier to a record 393,498 units.
"Our February sales numbers, with year-on-year growth rate of 51 percent, exceeded our expectations despite the Spring Festival holiday," said Wale. "The continued strong market demand portends another record year for both the industry and GM in China in 2010."
Wale also said the company expects to sell more than two million vehicles in China in 2010, up at least 13 percent from last year.
Related readings:


 Slowdown in auto sales expected


 GM's China sales up 51% in February


 GM says 2009 China vehicle sales up 67%


 GM to shut down Hummer after China deal fizzles
GM plans to introduce more than 10 new models in China this year, Wale said.
In December, GM announced a plan to cede control of its key Chinese joint venture Shanghai GM Corp to local partner SAIC. In return for the move, GM will partner SAIC to push into India and other emerging markets.
According to the plan, SAIC would pay about $85 million for the added 1 percent share, boosting its total stake in Shanghai GM to 51 percent, enabling it to consolidate the venture's accounts on to its balance sheet.
GM and SAIC also plans to set up a $650 million joint venture in Hong Kong, which will take over GM India. That would soon start to produce and sell Shanghai GM and SAIC-GM-Wuling's small cars and minivans in India.