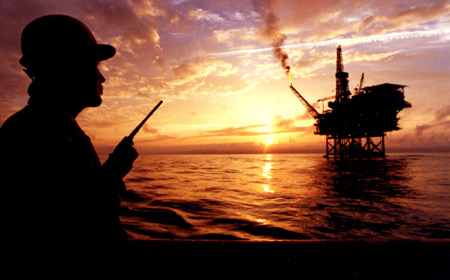 A worker eyes a CNOOC Ltd oil platform at sunset on the Donghai Sea, China. CNOOC is planning nine new offshore projects this year. [Agencies]
Drilling by Canada's Husky is third in China's Pearl River Basin
CNOOC Ltd, China's largest offshore oil and gas producer, said yesterday its partner Husky Oil China Ltd had made a new deepwater gas discovery in the South China Sea.
The company, a subsidiary of Calgary, Canada-based Husky Energy Inc, made the discovery, at the Liuhua 29-1 field, in the Pearl River Basin in the South China Sea. It is the third discovery in the area.
According to their production-sharing contract, CNOOC Ltd has the right to a 51 percent working interest in the discovery.
The new well was drilled to a depth of 3,331 m, in water about 720 m deep.
During drill stem tests the well demonstrated a flow rate of 57 million cu feet of natural gas per day.
"Deepwater is one of our main exploration focuses this year and successive deepwater discoveries in the South China Sea serve to further encourage us to carry on our deepwater exploration activities," said Zhu Weilin, executive vice-president of the company.
The new Liuhua 29-1 field will be appraised later this year by Husky to further determine the actual size of the discovery.
Husky, controlled by Hong Kong billionaire Li Ka-shing, started exploring off China's shores in 2002.
The company is now one of Canada's largest energy-related companies.
CNOOC Ltd last week revealed its 2010 business strategy with total targeted net production set at 275 million to 290 million barrels of oil equivalent.
The company is also planning nine new offshore projects this year.
Related readings:


 CNOOC shares fall on news of purchase


 CNOOC to boost oil output to 290m barrels in 2010


 South China Sea gas find to fuel CNOOC dreams


 CNOOC doubling crude oil output
In order to maintain sustainable growth, CNOOC Ltd will further enhance its exploration efforts to focus on the exploration of oil in key areas, natural gas exploration, and deep-water exploration, with an intensive program that includes 98 new exploration wells.
The company is planning total capital expenditure of $7.93 billion this year, a 29.5 percent increase over 2009. During the year, capital expenditure for exploration, development and production is expected to reach $1.47 billion, $4.81 billion and $1.50 billion, respectively.
Yang Hua, president and CFO of the company, said, "While energy sector operating costs keep climbing, we will continue to implement our low-cost strategy to strike a balance between achieving higher production growth and maintaining our competitive cost advantages."