'Unlucky' time for tying the knot may take shine off jewelry sales
The recent decline in the price of gold may extend on a firmer dollar but the falling price may not spur jewelry buying as Chinese couples avoid weddings in 2010.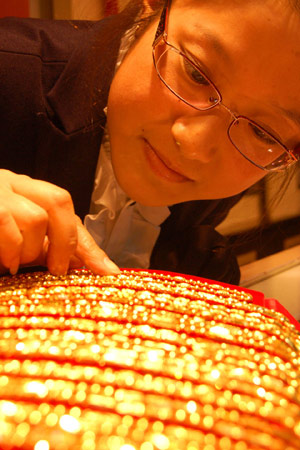 A store clerk changes the price tags on gold jewelry in a department store in Shenyang, Liaoning province. Despite falling bullion prices, consumers in China are unlikely to buy more. [China Daily]
Bullion slumped to $1,066.30 an ounce last Friday, a three-month low, as the dollar's gains eroded the yellow metal's appeal as an alternative investment. The greenback climbed against the euro on mounting budget concerns in European Union countries, such as Greece, Spain and Portugal.
Eight of 16 traders, investors and analysts surveyed by Bloomberg said bullion would fall this week. Six forecast higher prices and two were neutral.
According to a technical analysis released by Barclays Capital last week, gold may extend its decline to $1,000 an ounce within three months.
"While the medium-term bull market is not threatened, it would seem likely that gold will retest previous resistance and ongoing market pivots at $1,031 but likely closer to $1,000 where we will once again look for a base," said the report.
Liu Xu, an analyst at China International Futures, said: "The first half of this year will see price adjustment and fluctuation, and investors should closely watch the performance of the US dollar."
In spite of falling bullion, consumers in China are not likely to hike their buying as fewer people would get married and buy gold jewelry before wedlock in 2010, said Liu.
According to traditional Chinese beliefs, 2010 is in a cycle of inauspicious years for marriage. Some believe that if a couple marry in specific years of that cycle, the husband or wife may die at a young age.
"I know it is superstition, but I just don't want anything bad to happen to our once-in-a-lifetime marriage," said Cao Jing, a 28-year-old postgraduate. "My husband and I registered in late 2009 but we decided to postpone our wedding to 2011."
Related readings:


 Gold bounces back from 3-month low


 Gold to shine as dollar loses appeal


 Gold tiger sculptures on sale


 Investors turn to paper gold as yellow metal prices zoom
Because the year of the tiger is about to start in the traditional Chinese calendar, gold accessories featuring the big cat have become the most popular item on sale at Caishikou department store, the largest jewelry retailer in Beijing.
"Jewelry buyers have their own shopping plans and would not be affected much by the price," said Niu Jingqi, public relations manager at the store.
Niu said sales often reach a peak before the Spring Festival. This year's Lunar New Year begins this weekend. Prices of gold jewelry remain stable at 288 yuan per gram of 99.999 percent purity.
China has been the world's largest gold producer since 2007 and it surpassed India as the world's top gold consumer in 2009. According to statistics from China Gold Association, China produced 314 tons of gold last year. About 500 tons of the metal was used in jewelry and bullion investment.