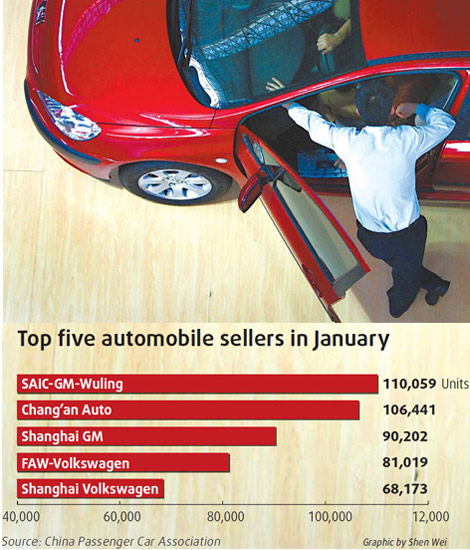 Stimulus helps vehicle purchases leap 84 percent year-on-year
China's automobile market continued its robust growth in January, with sales surging 84 percent from a year earlier, heavily boosted by minivans, China Passenger Car Association said on Friday.
Rao Da, the association's secretary-general, said a total of 1,218,722 cars, sport-utility vehicles, multi-purpose vehicles and minivans were sold last month, an increase of 84.2 percent year-on-year and 5.1 percent from December.
The sales boost was largely driven by the minivan segment, which jumped 88.9 percent year-on-year and 44.4 percent from the previous month. This was mainly a result of subsidies for trade-ins and tax cuts introduced as part of the government's stimulus program.
Thanks to its soaring minivan sales, Chongqing-based Chang'an Automobile reported an outstanding market performance last month, with 198,400 vehicles sold, up 123 percent over last year and 82 percent from December.
GM's mini commercial vehicle joint venture SAIC-GM-Wuling, China's largest minivan maker, reported year-on-year sales growth of 59.6 percent in January, with 119,969 units sold.
Rao predicted that passenger car sales in February would grow 50 percent from last year. And in the first quarter, he said it was his "conservative estimate" that 900,000 more passenger cars would be sold in China than in the same period last year.
He also predicted that China's total vehicle sales would hit 17 million this year, up 25 percent from a year earlier. Last year, China's passenger car sales jumped 52.9 percent to 10.3 million, as the auto industry witnessed total sales of 13.6 million vehicles, up a record 46 percent year-on-year, making the country overtake the United States to be the world's biggest auto market for the first time.
Related readings:


 Auto gridlock eased, pollution squeezed


 2009 a year of milestone deals and record sales in auto market


 Slowdown in auto sales expected

 World's top auto market keeps expanding
China's Ministry of Commerce said last week that the vehicle sales this year are forecast to surge a little more than 10 percent from 2009 to more than 15 million.
"We are still confident of sales for 2010, as the government's policy to stimulate consumption at all levels will continue," said Chang Xiaochun, director of the department of market system development under the Ministry of Commerce. "Double-digit growth is not a difficult goal."
Global leading rating agency Moody's said this week that it upgraded its forecast for the Chinese light vehicle market to 14.3 million in 2010 and 15.7 million in 2011, up from 11.8 million of this yea, respectively.
"We expect the market to remain on a growth path for the next two years with demand rising 10 percent each year," said the Moody's report.