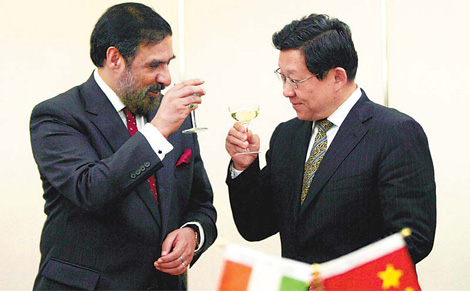 China's Commerce Minister Chen Deming (right) and visiting Indian Commerce and Industry Minister Anand Sharma raise a toast at a meeting in Beijing yesterday. Bilateral trade between the two countries is likely to surpass $60 billion this year. [China Daily]
China's exports during the first 20 days of this month have continued to grow and, coupled with the rebound during last December, augurs well for trade prospects this year, Commerce Minister Chen Deming said yesterday.
The Commerce Minister also indicated that the nation would reform its exchange rate policy on a gradual basis, and expects the stable yuan to bring cheer to the global economy.
Chen made the remarks after a meeting with the Commerce and Industry Minister of India Anand Sharma yesterday.
He said there still exists immense potential to cement trade ties between the two nations. According to Chen, bilateral trade between the two nations could surpass the targeted goal of $60 billion for this year, compared with $43 billion last year.
Buoyed by the recovery of the global economy, China's exports in December surged 17.7 percent from a year earlier, ending the 13-month drop since November 2008.
"During the first 20 days of this month, China's exports have registered sustainable growth," said Chen, without mentioning what drove the growth.
However, it would still take at least two or three years before exports return to the pre-2008 levels, he said.
The December exports surge was led by sectors such as mechanical and electrical products, textiles and furniture with double-digit growth rates of 26.9, 25.2 and 10.8 percent respectively.
Standard Chartered expects China's export growth to be between 10 to 15 percent in the first quarter of this year.
Better prospects
"Industries in China and India are highly complementary and that is something we could use to increase bilateral trade," said Chen.
Related readings:


 Mechanical, electrical exports to leap by 10%


 Toy exports lacklustre in Guangdong


 Outlook for Chinese exports still grim


 China's imports, exports grow 9.8% in Nov
China imports chemicals, steel, plastic, jewelry and mineral products from India, while it exports mechanical and electrical products. In 2009, China-India trade grew 75 percent compared with 2006.
The Indian commerce minister said a balance in bilateral trade between both nations was required as currently China has a trade surplus.
Sharma said India is seeking more investment from China in "telecommunications and power stations", while they would look at investing in sectors like IT, pharmaceuticals and construction.
Chen, on his part, said India must reduce the trade remedial measures against China. "Both the countries should not view each other as opponents and should instead work together for a more free trade environment," said Chen.