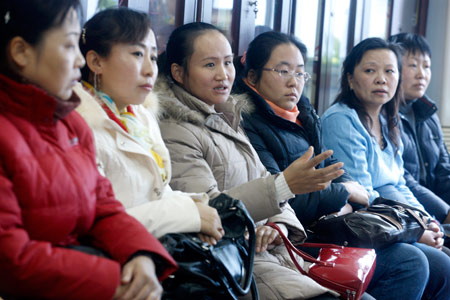 Saleswoman promoting products in Chinese supermarkets Wu Mart, Merry Mart and Ikelong talk about their labor dispute cases in Beijing yesterday. [China Daily]
Saleswoman claims supermarket chain exploited suppliers' workers
French supermarket chain Carrefour is facing a lawsuit in Beijing for allegedly exploiting their suppliers' saleswomen.
Sheng Yucang, a 34-year-old saleswoman from Shandong province, filed the lawsuit against Carrefour in Fengtai District People's Court, asking for social security compensation and overtime pay.
"I am not doing this for myself, I am doing it for all the saleswomen exploited by these foreign-owned supermarkets," said Sheng, who is back in her hometown in Shandong and asked her lawyer to submit the lawsuit to the court on her behalf yesterday.
Sheng was hired by daily-use chemical brand Walch in early 2008 to promote products in a Carrefour branch in Beijing's Fengtai district, but actually spent a large amount of her time loading goods and cleaning up for Carrefour.
She was paid 1,600 yuan ($235) a month.
Sheng said she did not sign a contract with Walch or Carrefour until last December.
She was fired this April, when she was six months pregnant.
"I heard a Carrefour official tell a Walch director that I am not suited to working there as I am pregnant," Sheng told China Daily via phone.
"Then the director sumoned me and asked me to leave. She said if you want to stay you have to get an abortion," Sheng said.
Sheng said the department selling daily chemicals has about 60 workers and only three or four of them had signed contracts with Carrefour and the rest are all salespersons of different brands.
"We do what Carrefour employees do loading and uploading goods, cleaning up you know, it is very physically demanding, but you have to put up with it or you will lose your job," she said.
Lawyers estimate there are more than 1 million supermarket saleswomen in China facing the same fate as Sheng.
Beijing Carrefour could not be reached for comment yesterday.
Beijing Zhicheng law firm, a government-funded migrant workers' legal assistance and research center, acted for her, and they discovered Sheng's experience was not an isolated case, but shows the "hidden rule" of the supermarket industry.
"Many supermarkets do not sign contracts with these saleswomen, not to mention paying social insurance or overtime. They just push the responsibility to the suppliers like Walch, but work these saleswomen like horses," said Tong Lihua, head of the law firm, noting that it is a disguised employment relationship introduced from overseas.
Similar cases happen in domestic markets like Wu Mart and Merry Mart.
But a labor relationship actually exists between the supermarkets and these saleswomen, he said.
Take Sheng as an example. First, she was promoting Carrefour goods as the suppliers had sold their products to Carrefour. Second, Sheng's work like cleaning up, loading and unloading was directly assigned by Carrefour administrators. Third, Sheng was wearing a Carrefour uniform during work.
However, Sheng's demand was denied by a labor arbitration committee in Beijing, as she could not provide written material to prove a labor relationship between her and Carrefour.
Dong Baohua, a law professor of East China University of Politics and Law, said there is still a slim chance for Sheng to win the lawsuit.
Related readings:


 Carrefour denies China exit plans


 Shopper, attacked at Carrefour, sues retail giant


 Carrefour cuts prices in China to boost sales amid crisis


 Carrefour reopens flagship store in Urumqi
"The disguised employment relationship is still an academic term," he said.
"And since Sheng has a clear labor relationship with Walch, which hired her, paid her and fired her, there is hardly a legal rule that would count Carrefour in."
"I did not slack off a bit after pregnancy," said Sheng, who has lost her job and is taking care of her 4-month-old baby in a village in Shandong province.
She dare not rest even if she was pregnant, as she knew the Carrefour watcher was monitoring and could ask Walch to fire her at any time.
Sheng said she often had to stand and work from 3 pm to 4-5 am when she was on night shift.
Sheng's husband now works as a taxi driver in Beijing, earning about 2,000 yuan a month.
The mother said it was a tough decision to have this child as they knew it is expensive to raise a child in Beijing, but she did not expect to lose her job for this.
Another 16 saleswomen hired by Beijing "Prince Milk" to promote the product in the Wu Mart, Merry Mart and Ikelong supermarkets who have similar experiences as Sheng also filed their cases to the labor arbitration authority yesterday.