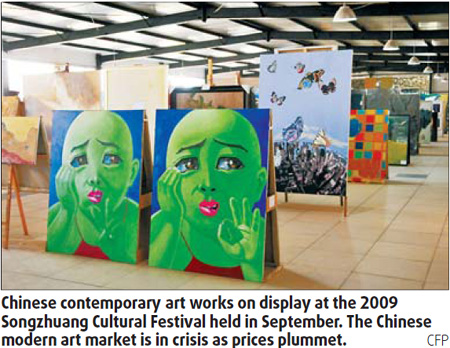 The fallow plots of farmland on the edge of the artists' village of Songzhuang are a symbol of Chinese contemporary art's recent boom and bust cycle.
When prices for Chinese art soared, there were grand plans to build more galleries and studios in this artists' hamlet near Beijing. Yet today, after art prices plunged by some 60 percent in the past year, the expansion plans have floundered.
Art landscape
After a white-hot stint, the financial crisis has battered China's art landscape, shrinking investment in grand schemes such as Songzhuang, shuttering galleries in Beijing's pioneering 798 arts district and deflating bloated egos, valuations and excesses.
"The Chinese contemporary market was over-swollen before. I felt it wasn't very healthy," said Nan Xi, a former Chinese army officer who became an artist, whose works, huge pointillist ink-brush canvasses which he displays in his spacious Songzhuang villa, fetched around half a million yuan at the peak of the market.
In the good days, ferocious bidding in auction rooms at the market's peak in 2007 and 2008 caused prices to spiral skyward with buyers and speculators treating contemporary artwork almost like stocks or tradable commodities.
What resulted was a glut of average art at inflated prices and a growing community of millionaire artists, some more drawn by the opportunities to make vast amounts of cash than any artistic vision.
"The financial crisis has been a good lesson for us; to better know what the market is, and art's relationship to it. Having too much money is not good for an artist's development," said Nan.
China's leading auction house, Beijing Poly International Auction, which is famous for its repatriation of looted bronze animal heads from the West, has seen business in Chinese contemporary art plunge more than 50 percent in the past year.
Buyers' choice
"A lot of buyers have been pushed out, including the speculators. The collectors who are left are now able to pay more reasonable money for reasonable things," said Li Da, Poly's general manager.
Related readings:


 Chinese contemporary art exhibit opens in Washington


 China to build largest contemporary art museum


 Contemporary art finds own flourish


 Celebs arrive at a party at the Museum of Contemporary Art
Li gave the example of a large Zhang Xiaogang bloodline painting, which fetched 16.8 million yuan in May, and said that painting would have sold for more than twice that amount if it had been auctioned in 2007.
Melancholy canvasses by Zhang, one of China's A-list artists, sold at up to $6 million apiece at the market peak. Those valuations have, like many others, since fallen some 66 percent according to an index on Chinese art website Artron.net. Since 2007, the overall market for Chinese contemporary art has shrunk more than 54 percent.
Sotheby's and Christie's, which both pared back their sales of Chinese contemporary art in Hong Kong, have struggled to place outstanding works.
At Sotheby's autumn sales, bidding was mixed for contemporary art with Zhang Xiaogang's "Comrade" one of few pieces testing the $1 million mark. Without an across-the-board recovery in China's economy and a return to the days of huge wealth creation, Li said she doesn't see a comeback in Chinese contemporary art prices anytime soon.
"Right now, the market is still consolidating," said Tim Lin, a Taiwanese gallery owner at the recent Sotheby's autumn sales in Hong Kong.
"The market will go up, but you can't just focus on the short term. See it like a flower: if it blooms too quickly, it will wither quickly. You need to look at the long term."
Auctioneers and dealers say collectors have become more selective since the crash, spurning lesser works while seeking value in younger artists beyond China in Asia and in the West.
"Through this consolidation, there will be better discernment of good artists and good works and their inherent value," said Li, from the Poly Group. "The true connoisseurs of Chinese contemporary art, the collectors are left... and they will be able to pay reasonable money for reasonable things."
Expert's view
Misung Shim, the head of Seoul Auction, which sold a large work of British artist Damien Hirst in Hong Kong last month for $2.2 million, an auction record for the artist in Asia, sees growing opportunities beyond China's art scene.
"We are trying to open the Western art market in Hong Kong rather than the Chinese paintings market," she said.
Plunging prices of avant-garde art worldwide represent big potential upside. Major art investors such as Philip Hoffman of the Fine Art Fund in London are putting their money more in conservative, safer bets.
Recent Asian sales in New York and Hong Kong have shown strong demand and prices for traditional categories of Chinese art, including classic inkbrush paintings, imperial scholars' objects, and ancient ceramics are rising.
"We've allocated more to porcelain and ancient art, but we've allocated very little to Chinese contemporary," Hoffman said. "I've been amazed to see how the recession has not been affecting the very best (traditional) Chinese art."
Echoing this view, Andy Hei, the head of the Hong Kong International Art and Antiques Fair, said: "Antiques turn out to be fashionable again.