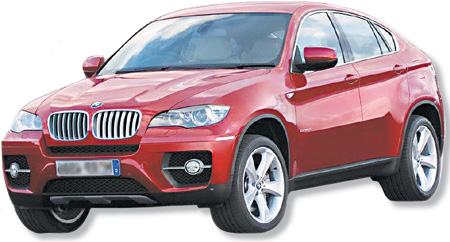 The mainland is now the largest market in the world for the BMW X6.
As a result of robust sales in the first three quarters of 2009, the Chinese mainland has vaulted ahead to become the fourth-largest market for BMW Group.
Its BMW and Mini brands sold 62,394 cars on the mainland in the first nine months, surging 31.8 percent from a year earlier, according to recently released data from the company.
The performance enabled the mainland to outstrip Italy as BMW Group's No 4 market after Germany, the United States and the United Kingdom.
Affected by the world financial crunch, the carmaker's sales tumbled in Italy, Germany, the United States and United Kingdom in the same period. It sold 21,083 fewer cars in Italy than on the Chinese mainland during the period.
Its January-to-September mainland figures - which nearly equaled the 65,822 units BMW sold for all of last year - included 59,460 BMW brand cars and 2,934 units under the Mini badge.
In September alone, BMW Group's sales in the mainland jumped 35.4 percent to 8,131 units from the same period of 2008.
The German carmaker moved 4,457 BMW X6 SUVs on the mainland in the first nine months, the top for any market across the globe for the model, it said.
BMW now makes its 3 and 5 Series sedans at a joint venture with Brilliance China Auto in northeastern city of Shenyang that has an annual production capacity of 41,000 units.
BMW's archrivals Audi and Mercedes-Benz also have production in China. Audi sold more than 100,000 cars in the nation in the first three quarters. Mercedes has not revealed its sales for the period.
Powered by the country's steady economic expansion, demand for luxury cars in China is expected to grow rapidly in the next five to 10 years.
Market researcher JD Power predicts luxury vehicles sales in China will more than double to 600,000 units by 2015 from last year.
BMW is providing VIP cars for the 6th China ASEAN Business and Investment Summit that opens on Tuesday in Nanning, capital of southern Guangxi Zhuang autonomous region, including 11 of its 7 Series and 22 of the 5 Series sedans.
The German carmaker said it is the latest move of its tradition to support high-level international business and cultural communications in China.