The China Banking Regulatory Commission ordered domestic banks to charge higher interest rates on mortgages for second-home buyers and require that their down payments be at least 40 percent of the purchase price.
The commission also ordered banks to restrict credit to real estate developers.
The commission said the policies will allow the government to more closely monitor price fluctuations in the property market, actively conduct stress tests and impose dynamic evaluations of credit risks related to real property.
According to statistics from the National Development and Reform Commission, property prices in 70 major cities were up 0.8 percent in June -- the fourth month-on-month increase in a row this year.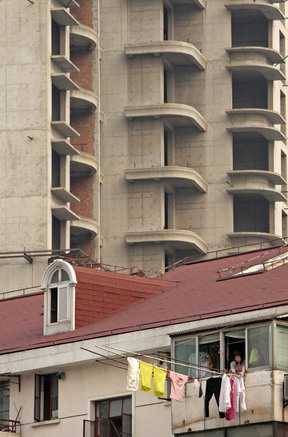 A woman hangs laundry outside her home, which stands next to a new construction project, in Shanghai. The price of China's real estate is rising quickly, resulting in restrictive policies by the central government. [Bloomberg News]
The average price of new homes in 36 large and medium-size cities rose to 6,554 yuan per sq m in June, up 6.3 percent from a year earlier.
Meanwhile, mortgage lending has accelerated, with quarter-on-quarter annualized mortgage lending rising by 88 percent in the first quarter.
Experts said the property market rebound was largely driven by loose monetary and credit policies, as well as inadequate investment vehicles available for investors to fight looming inflation.
Experts, insiders and consumers expressed their views on whether the policies to stabilize prices will be effective.
PROS
Gao Huiqing, member of the State Information Center's Experts Committee
The unexpected robust price growth implies speculative activities, which need macro policy to control.
The government's decision to restrain credit will help squeeze bubbles and hamper the speculation, leading to stable real estate prices.
Wang Shi, chairman of Vanke China Co Ltd
The loose credit policy is the key stimulus of the current hike in real estate prices; thus, the trend of the price absolutely depends on national policy.
I don't think it is possible to maintain continuous price increases in the housing market.
Zhang Jianqing, 33, a civil servant
The current housing price, which was bid up by a group of rich people, speculators and developers, is far beyond the ordinary person's budget.
The enhanced loan and credit interest standards will curb speculation.
I call on ordinary people to wait for the prices to drop, not fall into the trap of eagerly buying houses now.
CONS
Zhong Wei, professor at the Finance Research Center of Beijing Normal Education University
The current property market rebound is a sign of a new round of real estate prosperity, which may lead to further price hikes despite the policy to rein in those prices.
Housing demands in China are rigid, given fast urbanization, disposable income increases and limited land resources.
Although the credit for second properties is now restricted, the strong demand for first homes is still supporting the continuing growth of the market.
Ren Zhiqiang, chairman of Huayuan Group
Real estate prices in China's key cities are still very low. Current prices have not reached the level of "craziness", as somebody said.
The government's land supply is limited, and housing demand is resilient, so property prices will continue to increase at least in the next few years.
The basic demand for housing by Chinese citizens will prompt prices to rise - not speculators and developers. So a restricted second-home loan policy cannot ease price hikes.
Wang Yun, 45, an accounting manager of a State-owned enterprise
I don't think the price can be stabilized. You see, all the good locations in Beijing are occupied. If you want an apartment in the inner city now, the price is higher.