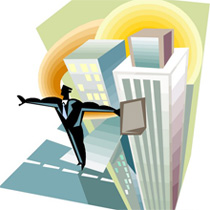 While housing sales in many parts of the world remain lethargic, sales volumes in China have rebounded strongly.
The pace of sales in some cities has been frenetic. In Guangzhou, first-hand residential transactions rose 108.2 percent in April over year-earlier figures.
In Shanghai, overall sales rose 65.5 percent in April, which included a growth of 77.8 percent in residential sales.
While the average price of housing in 70 major cities continued to fall by 1.1 percent year-on-year in April, it increased 0.4 percent over March.
Developers, who last year struggled under a tight monetary regime, have seen their prospects improve dramatically as that policy has loosened up.
Once it became obvious that China's exports would face weakening demand from the United States and Europe, the government has introduced policies since the end of 2008 to stimulate domestic demand. The government introduced a range of specific measures to breathe life back into real estate markets, particularly at the low-middle end.
Related readings:


 Real estate companies trigger rush for land


 Concerns behind real estate market revival


 Chinese equities edge up 0.54%, led by real estate


 Chinese shares add 1.89%, real estate stocks gain
Is the revival for real, though?
Rebounding transaction volumes have been dismissed by some economists as mere bottom fishing, as buyers pick up bargains. This argument looks weaker as the recovery has gained strength.
On the demand side, the government has taken additional measures, most notably lowering down payment thresholds, discounting mortgage rates, and cutting taxes. And on May 27 the state council cut the minimum capital requirement for "ordinary" residential developments from 35 percent of the total project cost to 20 percent.
This has helped turn around what, for property developers, was a dire situation in 2008. But will consumers jump into the market? Increasingly, the answer seems to be "yes."
Tony Young, senior analyst at Greenwoods Asset Management, a Hong Kong-based investment firm, argues that the real estate market is largely being driven by relaxed monetary policy, which has set in play an inflationary cycle.
Given the flood of liquidity hitting the economy, Young and other analysts think that economically literate denizens of first-tier cities such as Beijing will invest in real estate as a hedge against inflation.
Aside from those who are buying primarily for investment purposes, general consumers appear better able to afford higher prices. Morgan Stanley estimates that while average prices per square meter for residential property remained broadly unaltered last year, urban incomes increased about 14 percent.
This large increase in affordability contrasts to the period between 2003 and 2007, when affordability remained roughly stable.
As recent sales strengthen with the help of government policies, it nevertheless appears that in top-tier cities supply and demand are to be poorly matched.
Presenting a study of China's property markets in Shanghai recently, Alicia Garcia Herrero, chief emerging markets economist, and Li-Gang Liu, chief China economist at BBVA, a Spanish bank, argued that markets in Beijing, Shanghai and Shenzhen are overvalued by 16 percent, 18 percent and 20 percent, respectively, while some second-tier cities such as Chongqing and Tianjin, exhibit exaggerated prices of 20 percent to 25 percent above what the fundamentals alone would support.