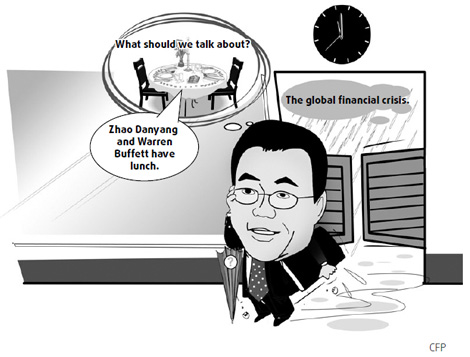 When Zhao Danyang had lunch with Warren Buffett, investors listened.
Zhao, a Hong Kong hedge fund manager, paid more than $2.1 million in a charity auction to have lunch with US billionaire investor Warren Buffett this summer.
He listened to Buffett, and also offered the chairman of Berkshire Hathaway Inc information about companies in China.
The stock market paid attention, too.
In following days, stock prices jumped for companies mentioned by Zhao at the June 24 luncheon.
Zhao, general manager of Hong Kong-based Pureheart Asset Management Co, talked about China's traditional health enhancing medicine called Dong-E E-Jiao (donkey-hide gelatin) and also about a Chinese white liquor called Moutai during the lunch.
Zhao is a shareholder of Shenzhen-listed Shandong Dong-E E-Jiao Co Ltd.
Show-and-tell
Qin Yufeng, general manager of Shenzhen-listed Shandong Dong-E E-Jiao Co Ltd, said in a telephone interview that Zhao was a shareholder before having lunch with Buffett.
Qin declined to disclose how many shares Zhao held or other details.
In the five days following that famous lunch, Dong-E E-Jiao stock jumped 15 percent.
Shares of Shanghai-listed Kweichow Moutai Co, a leading liquor maker in Guizhou, climbed about 6 percent during those five days.
Other industry analysts share Zhao's views on Dong-E E-Jiao.
Related readings:


 Buffett's gamble pays off as BYD catches market fancy


 Buffett lunch 'an investment'


 Book Review: Dining on the Buffett of wisdom


 Zhao ready for luncheon date with Warren Buffett
"Shandong Dong-E E-Jiao has the rights to the recipe. In addition, the company could benefit from the country's new medical system reforms and increased domestic consumption," said Cui Wenliang, an analyst with China Merchant Securities.
Founded in 1953, Shangdong Dong-E E-Jiao is the country's largest producer of gelatin, responsible for more than 70 percent of China's total production.
The stock market paid attention when Zhao provided Buffett with information about another company, too.
During his lunch with Buffett, Zhao showed him annual reports from Beijing's largest supermarket chain, Wumart Stores Inc.
Within the next four days, Hong Kong-listed Wumart stock jumped 20 percent, which made the market value of Zhao's 66 million shares soar to $16 million.
If he had sold them at that time, he would have enjoyed a $14 million net profit - a generous return on that $2.1 million lunch.
Zhao, however, is not a short-term profit seeker.