Xinjiang Bayi Iron & Steel Co Ltd has slipped into a loss of 100.4 million yuan in the first quarter of this year on weak demand for its products, price distortions and increased provisioning for falling inventory values.
"The low demand from downstream industries played a great part in the company's sales slide in the first quarter. The dropping steel price along with the relatively higher raw material costs also had an impact," the Shanghai-listed company said in a statement.
Related readings:


 Industry backs steel mills


 Steelmakers feel the price pinch


 Steel prices ease on slow inventory rundown


 China steelmakers want ore at '07 price level
During the same period last year, Bayi Steel, the largest steel smelter in Xinjiang Uygur autonomous region under actual control of Baosteel, realized a net profit of 118 million yuan, with its earning per share hitting 0.20 yuan.
Analysts said Bayi's growth has softened since last year. In 2008, the northwestern steelmaker posted a net profit of 103 million yuan, down 73.96 percent year-on-year, while earning per share fell by 73 percent year-on-year to 0.14 yuan.
"Bayi Steel started to diversify its products from 2007 onwards by shifting its focus from construction steel. The company's performance is more indicative of the overall steel industry trend in the first quarter," said Jiang Qiu, analyst, Guotai Jun'an Securities. "After Bayi, we are going to see a slew of reports from major steel mills in the first quarter," he said.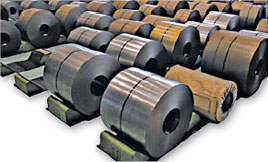 Jiang, however, said that Baosteel and Wuhan Iron & Steel may not figure among the loss-making companies. "The two firms have priced their products months ahead. When they set their March price in January, steel products prices were soaring," Jiang said.
Liu Yuanrui, analyst, Changjiang Securities, also expected a general profit decline in the steel sector. "Under the dual squeezing of over supply and falling demand, the steel industry's profitability will contract further. Although no official statistics have been released for March, loss makers are expected to outnumber profit makers, if there are any," he said.
According to Jiang, a steel price rebound of more than 30 percent since last November has encouraged many steel mills to relaunch their full production capacity, in an effort to consume their mounting stockpile of raw materials purchased at high prices. However, average steel prices started to fall in middle January, and have now neared a record low since 1994, catching most of the firms off guard.
Figures from China Customs showed that China exported 5.14 million metric tons of steel products during the first quarter, down 54.8 percent over 2008. In March alone, steel exports reached 1.67 million metric tons, an increase of 6.79 percent over February, but a drop of 59.76 percent year-on-year.
"The situation is tough at the moment, but we are confident that exports would not fall further," said Liu.