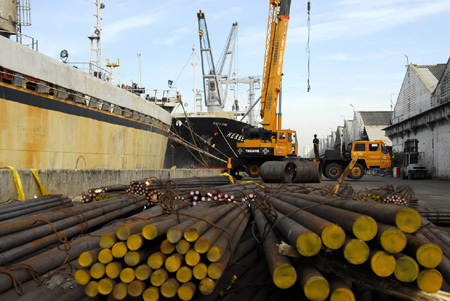 Steel rods from China are unloaded from a ship docked at the port on Chao Praya river in Bangkok, Thailand. [Agencies]
Chinese steelmakers are headed for troubled times as steel products makers are finding it tough to sell their products due to the narrow price gap with global prices, analysts said yesterday.
In February, China exported only 1.56 million tons of steel products, down 50 percent year-on-year. This is the lowest monthly export since October 2004 and the second straight month when exports fell, said Zhang Shibao, analyst, China Merchants Securities.
Related readings:


 China to cap steel output at 460m tons in 2009


 Merged steel giants set international trend


 Steel prices ease on slow inventory rundown

Steel prices have weakened as demand has slumped in most of the markets. In many countries like Russia and South Korea domestically made steel products are now cheaper than Chinese products.
"Chinese steel producers are losing their price advantage," said Hubert Tang, analyst, UBS.
"In 2007 and 2008, Chinese exports accounted for 12 to 13 percent of the overall market, but now exports have fallen to just 2 to 3 percent," said Hu Kai, analyst, Umetal.com, a metals information provider. The balance 10 percent steel products may not find too many takers considering the saturated domestic market now, he said.
Added to this is the fact that Chinese steel mills imported a record 4,674 million tons of iron ore in February, taking the total iron ore inventory to nearly 70 million tons. Additionally, around 1.09 million tons of steel products were imported last month, up from 220,000 tons in January.
"The skewed demand- supply gap will hit the Chinese steel industry badly in the first-half," said Shan Shanghua, secretary-general, China Iron and Steel Association (CISA).
"Steel prices have touched the previous low level of 1994 this month, while steel smelters nationwide are facing another round of losses. Very few new contracts have been signed and we expect steel exports to fall nearly 80 percent this year," said Shan.
Though many steelmakers are pinning their hopes on the mass infrastructure projects funded by the 4-trillion-yuan stimulus package to stimulate demand, analysts do not expect an immediate pickup.
"Expectations of a State-led construction boom has triggered a new round of inventory build-up," said Hu.
The CISA figures showed that by the end of February, the inventory of five major steel products in 20 major cities had reached 6.7 million tons, up 37.9 percent month-on-month.