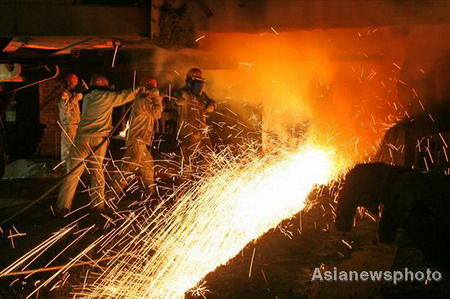 Smelters work in front of a furnace at Ningbo Steel Co Ltd in East China's Zhejiang province, March 12, 2008. [Asianewsphoto]
China plans to cap its crude steel output at 460 million tons in 2009 and at around 500 million tons in 2010 as it pushes the world's biggest steel industry to get into shape.
The country also plans to close steelmaking capacity of 25 million tons and iron-making capacity of 72 million tons in the next three years, the country's top planning body said in a strategy plan on Monday.
Related readings:


 Steel prices ease on slow inventory rundown


 Expert: China's steel exports may contract 80%


 Steel mills brace for output cuts


 Steel sector consolidation to continue

The plan, posted on the website of the National Development and Reform Commission, www.ndrc.gov.cn, confirmed a Reuters report of Feb 18.
Global demand for steel has slumped in the fallout from the economic crisis, forcing Chinese steel firms to seek shelter in construction projects backed by a $586 billion State stimulus package. But by doing so, they are putting themselves at the mercy of government ambitions for belt-tightening.
The plan urged steel mills to consolidate so that the top five mills jointly account for more than 45 percent of the nation's total capacity, while facilities located in coastal areas amount to more than 40 percent of the country's capacity.
That move aims to cut pollution in major cities, the plan said. China's 20th-century steel boom left thousands of blast furnaces in every corner of the country, and this decade's double-digit economic growth years turbo-charged the rush into steel.
Analysts have said that the relocation would also help to decrease operating costs for the mills.
Shanghai-headquartered Baosteel Group will take over the 10th-biggest mill, Baotou, while the country's No 4 Anben Iron and Steel, based in the northeastern province of Liaoning, will merge with Panzhihua, a top mill in western China, the detailed plan said.
Steel firms in the northern city of Tianjin will be consolidated locally, while Taiyuan Iron and Steel, China's top stainless steel maker and parent of Taigang, will take over small rivals in home Shanxi province, the plan said.
The country will concentrate on encouraging consolidations among mills in different regions as some such moves processed slowly and partially due to their respective government assets monitors, analysts have said.
The consolidation drive could support steel firms' profitability since China has a massive amount of excess capacity, with last year's 500 million tons of production overshadowed by more than 600 million tons of annual capacity.