Holdings of US Treasury bonds rose in January, but the increase is the slightest since last June, indicating the country's appetite for the securities is set to diminish as a result of the falling trade surplus and rising concern over investment security.
Related readings:


 China 'may have lost $80b in equities'


 China's trade down in early 2009


 Premier 'worried' about safety of China's assets in US


 Clinton urges China to continue buying US Treasuries

The country's reserves of US Treasuries rose by $12.2 billion to $739.6 billion by the end of January, according to the latest International Capital Report by the US Treasury Department. Although China remained the largest creditor of the US government, analysts say its future purchases would shrink.
Treasury debt holdings grew by $14.3 billion in December.
"Purchases of US Treasuries are set to decline, given the fall in the trade surplus," Erh-Cheng Hwa, chief economist of Bank of Communications, told China Daily.
China ran hefty trade surpluses in the past years and accumulated $1.95 trillion in foreign exchange reserves by the end of 2008. In an attempt to seek stable returns, most of the reserves were channeled to low-risk assets such as US Treasury bonds.
The nation's trade surplus dropped to $4.8 billion in February, down 87.6 percent from a year earlier. Some analysts say it may decline further as the nation's stimulus package props up demand for foreign goods while doing little to boost exports.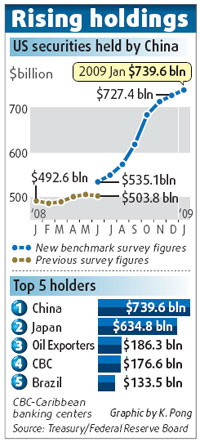 Sun Mingchun, economist with Nomura International, estimates that the trade surplus is likely to fall to $155 billion this year, only about half of last year.
The announcement of the increase in China's US Treasuries holdings followed Premier Wen Jiabao's comments last week that he is "worried" about the nation's holdings of US Treasuries and wanted assurances that the investment is safe.
Although US President Barack Obama later assured that every investor, including China, "can have absolute confidence" in the soundness of investments in the US, a rising number of Chinese experts are advocating that the government find new investment channels for its foreign exchange reserves.
"Although China is unlikely to massively cut its existing holdings of US Treasuries, it will try to reduce purchases," said Yu Yongding, president of the Institute of World Economics and Politics at the Chinese Academy of Social Sciences.
Wen has said that the country is studying ways to use its foreign exchange reserves to buy equipment and technologies that are key to its economic development. The government has also said it would encourage local companies to invest overseas.
On Monday, the Ministry of Commerce said it would make it easier for its companies to invest overseas. Last month, Chinese companies announced $22 billion of planned overseas investment, including a $19.5 billion plan for an increased stake in Rio Tinto Group, the world's third-largest mining company.
Standard Chartered has said China's outbound foreign direct investment may exceed inflows this year for the first time.