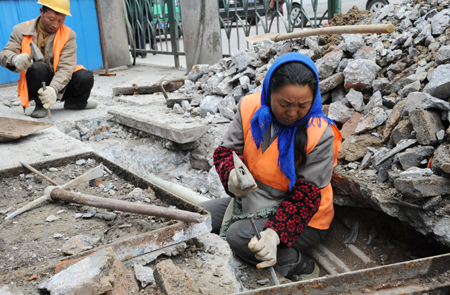 Migrant workers in Guiyang, capital of Guizhou province, labor on urban construction sites on Tuesday, as the city strives to create 45,000 new jobs for urban employees and rural migrant workers. [China Daily]
The current struggles within the Chinese labor market could provide a golden opportunity to enhance its overall workforce for years to come, a leading expert on employment said yesterday.
With an estimated 20 million migrant workers now without a job, the country has some tough challenges ahead. But it is the perfect time to transfer skills and overhaul the social security system, according to Zheng Gongcheng, a senior lawmaker for the National People's Congress (NPC) Standing Committee.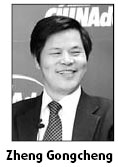 Related readings:


 Job seekers flock into job fairs


 More done to help job seekers


 Free training aids migrants' job hunting


 Job creation initiatives spelled out
"The global financial crisis gives China the chance to turn a vast number of farmers into high-quality industrial workers," he told China Daily yesterday, adding the national vocational training program for rural migrant workers may produce around 3 million skilled technicians - a "very valuable labor resource".
A government report showed there were around 130 million farmers in China who migrate far from their hometowns for work. Following the onset of the global financial crisis, many have been forced to return to their families since October after being laid off by struggling businesses, particularly in the export sector.
But millions have already taken up places on vocational training programs subsidized by the government, learning new skills in things like welding, computer technology and handicrafts.
"To develop the country's economy, we need more skilled workers," said Zheng. "In the current economic situation, the country should not leave such vast labor resources unused but instead provide them good job training for the future."
Zheng also predicted that the central government will this year inject "a lot" into the social security system. "Strengthening social security is a must to tackle the crisis, as well as to improve people's livelihood," he added.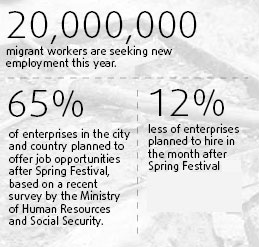 The Ministry of Human Resources and Social Security accelerated reforms in pension insurance last month, meaning millions of rural and urban migrant workers will be better protected under new regulations.
Rural workers will now enjoy the same rights as those from urban areas if they pay contributions in time, while the other proposal is to scrap barriers on transferring a pension fund between provinces to help the workforce move around more freely.
The domestic employment demand hit a two-year low at the start of this year, while China's urban unemployment rate, which excludes migrant workers, jumped for the first time in five years to 4.2 percent as of Dec 31, said the ministry.
The nation has an unemployment target to 4.6 percent this year, which would be the worst since 1980, with around 7.5 million college graduates also soon to enter the grim job market.
"Improving the employment situation is our top priority and everything we do is aimed at achieving that goal," said ministry spokesman Yin Chengji.
The State Council has issued two job stimulus packages in the last two months to help graduates find jobs, while those provinces that are the major exporters of migrant workers - including Henan, Sichuan and Jiangxi - are also providing free vocational training and small loans to help resettle those who have returned.