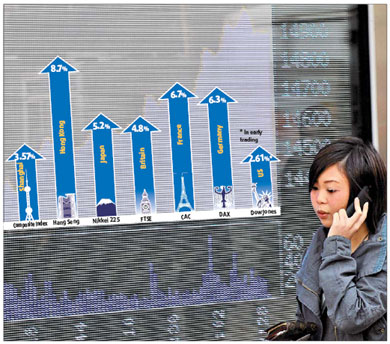 A woman walks past a board displaying the Hang Seng Index chart in Hong Kong yesterday. Hong Kong share prices closed 8.7 percent higher, lifted by hopes that Beijing would announce more market-boosting measures to boost its economy. The benchmark Hang Seng Index rose 1,199 points at 15,044. Stocks on the mainland and other Asian markets also rose. [Agencies] 
As top policymakers ponder ways to ensure GDP growth of at least 8 percent next year, the government is "very likely" to initiate cuts in business tax to add impetus to the slowing economy.
The officials Monday began the three-day annual Central Economic Work Conference in Beijing, which sets the tone for policies next year.
The authorities may soon cut business tax for enterprises by 1 percentage point from the current 5 percent, a source close to policymakers told China Daily, without mentioning a timeframe.
That would amount to 120 billion yuan ($17.5 billion) worth of tax cuts given annual business tax revenues of more than 600 billion yuan ($87.6 billion) last year.
Business tax - distinct from enterprise income tax and value added tax - is levied on enterprises and individuals that provide labor services, transfer intangible assets or sell immovable property in China.
It was also reported earlier that policymakers would discuss raising the threshold of personal income tax from 2,000 yuan to 3,000 yuan a month to spur domestic consumption.
The government, which announced a massive $586 billion stimulus package on Nov 9, wants at least 8 percent growth to provide employment opportunities to the roughly 10 million people entering the job market each year.
Policymakers at the economic conference are expected to reach a consensus on how to implement the stimulus plan in a coordinated manner.
"The economic conference this week may be mostly about fine-tuning these stimulus measures and thinking ahead to what next," said David Dollar, the World Bank country chief for China.
"I think the stimulus will be enough to keep China growing at a healthy rate so the focus now should be on good implementation."
"They (policymakers) will be laying out just how big the kitchen sink has to be to re-invigorate the economy," said Stephen Green, senior Standard Chartered Bank economist in Shanghai. "All the data suggests the economy has further skidded into the fourth quarter."
"How to co-ordinate all that, how to judge its effectiveness, and what is next in terms of policy will likely all be discussed at the conference," Green said.
The major task at the conference is for policymakers to take concerted steps to keep the economy from being derailed by the global financial crisis and economic slowdown.
"Above all else, the aim of the meeting will be to get everyone on the same page - growth, above all else," he said, adding that the effect of the stimulus policies would surface in the second quarter of next year.
The nation's economic growth dropped to 9 percent in the third quarter, compared with 11.4 percent last year. The global economic slowdown may even drag down China's growth to 7.5 percent in 2009, the lowest in two decades, the World Bank forecast earlier.
The Chinese Academy of Social Sciences, however, was more upbeat in a report last week, tipping growth of around 9 percent next year.