Special coverage:
Interest Rate Cut
Coping with Crisis
NDRC Nov 27 Press Conference
Related readings:


 China to buy crops to protect farmers


 350b yuan to pour into environmental industry


 Total investment to surpass 18t yuan next year


 Fuel tax scheme to be made public soon


 Economic planner unveils stimulus breakdown


 Commentary: Clearer and stronger policy stance
Minister of National Development and Reform Commission (NDRC) Zhang Ping has made public the breakdown of China's four-trillion-yuan stimulus plan, which will cover livelihood improvements, R&D, environmental protection and other sectors.
280 billion yuan for housing projects
370 billion yuan to improve people's lives and infrastructure in rural areas
180 billion yuan to build highways, railroads, and the power grid
40 billion yuan for medical care and education
350 billion yuan for ecological and environmental projects
160 billion yuan to fund R&D and innovation projects
1 trillion yuan for places worst hit by the earthquakes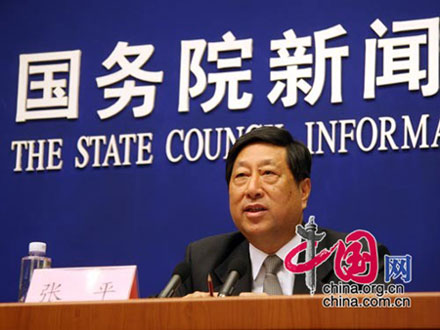 Minister of National Development and Reform Commission Zhang Ping at a press conference in Beijing on November 27. [china.org.cn]
The new details of the stimulus plan have been revealed together at the same time as China's total domestic investment was forecast to reach 18 trillion yuan in 2009.
For 2008 total investment is expected to reach 16 trillion yuan, while last year it was 13 trillion yuan. The four-trillion-yuan stimulus package is just part of all the investment China needs to drive its economy.
Among the financial stimulus plan, 350 billion yuan will be spent on improving the ecological environment and treating pollution, Zhang said. The four-trillion-yuan investment will not be spent in the energy and resource-intensive industries or high-pollution industries.
Zhou Shengxian, minister of environmental protection, said earlier that the main targets of environmental investment will go to beef up rural environmental efforts. He said China's fledgling green industries, such as those involved in the development of renewable energies and pollution treatment, will also benefit from the investment plan.
Further aspects to the NDRC's plans to stimulate the economy have also been released, including a review of the fuel tax reform formula, undertaken with other government departments. Once the formula is ready, it will be released to seek public opinion on amendments, said Zhang at the press conference.
"The goal for fuel reform is to highlight four concepts, which are fair taxation, a regulated charging system, energy conservation and less financial burden for people," Zhang said.
"It is fair that the more people consume oil the more they have to pay for it," Zhang said. By replacing the maintenance fee for roads, navigation systems and road tolls with a fuel tax, car owners will pay less than before.
"By replacing the fees with fuel taxes, we also hope to regulate road toll stations that used to charge drivers for no legal reason," he added.
Another major measure announced by the NDRC was the government boosting its crop purchases. China has seen a fifth consecutive year of record agricultural harvest but crop prices have started to drop, said Zhang. To prevent those price declines from affecting farmers' incomes, the central government has decided to increase its procurement of grain, cotton, oil products and meat at minimum purchasing prices.