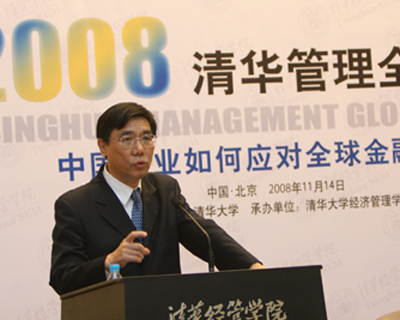 Jiang Jianqing, board chairman of the Industrial and Commercial Bank of China, speaks at the Tsinghua Management Global Forum held in Beijing, Nov 14, 2008. [chinadaily.com.cn]
Jiang Jianqing, chairman of the Industrial and Commercial Bank of China, appealed for close attention on the confidence problem at a forum held in Beijing on Friday.
He said during a keynote speech at the 2008 Tsinghua Management Global Forum that the absence of confidence has led to panic selling on the American stock market, which has spread to the rest of the world including China.
He said keeping confidence in the economy is especially important for China. "The fundamentals of China's economy are still very strong even though the ongoing crisis does have implications for China's growth," said Jiang.
Jiang said China still has investment and domestic demand as two effective weapons against economic downturn when its export sector is dealt a heavy blow by weakened overseas demand from the global crisis.
"Therefore, having confidence is all the more important. Things we're seeing happen on the Chinese market have been cause by (lowered) confidence or expectation of the future," he said.