In face of the ongoing financial crisis, Chinese banks should not only step up corporate management and risk control, but also make efforts to finance the nation's growth needs, officials and bankers told a forum in Beijing last Friday.
Related readings:


 China Merchants Bank says loan growth slowing


 Central bank to give out $14.7b additional loans by year end


 Agricultural Bank of China receives 130b yuan injection


 World Bank: China in good position to expand economy
In a speech to the Tsinghua Management Global Forum at Tsinghua University, Jiang Jianqing, board chairman of the Industrial and Commercial Bank of China (ICBC), said the latest financial crisis should serve as a lesson for domestic bankers in terms of profit-centered corporate governance.
"Although domestic banks have much to learn from Western financial system, the Western models are far from perfection, especially when tested by the financial turmoil," Jiang said, adding that exploring sound corporate governance and risk control systems should be a crucial task for Chinese banks at present.
He noted that Chinese lenders should take a balanced strategy between growth and risk prevention, current profit and long-term development, and build a reliable relationship among stakeholders.
The 21st Century Business Herald Saturday quoted a banking insider as saying that in pursuit of extra returns and profit incentives, many Wall Street bankers have neglected risk control and magnified financial leverage without supervision, which led to banks' failure when the financial bubbles burst.
Statistics revealed so far showed Chinese banks had limited losses from the widespread financial tsunami thanks to cautious investment and relatively secluded operational environment.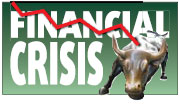 An earlier report from the Securities Daily said seven Chinese listed banks had announced bond holdings of $721 million in the bankrupt US investment bank Lehman Brothers, and most lenders have made provisions for the exposure.
In its 3rd quarter report, ICBC said it had made a $1.31 billion provision for impairment losses on US mortgage-backed securities and structured investment vehicles. Provision coverage and the provision ratio of the bank stood at 103.63 percent and 52.06 percent, the bank said.
Lending to real economy
Shen Liantao, chief consultant with the China Banking Regulatory Commission, said instead of copying the Western financial model, Chinese lenders should stick to their traditional values as commercial banks. These values include safeguarding the interests of depositors and investors, as well as promoting the development of real economy.
"Substantially, the banking industry is born to serve the real economy," he said, "if a country's economy performs soundly, its financial sector is set to grow."
Shen noted that financial innovation itself is not to be blamed. However, excessive, derailed innovation such as profiteering from high-leveraged financial tools can never be good for the real economy.
As part of the nation's 4-trillion-yuan package to stimulate the economy, the financial authority announced last week it would abolish commercial banks' credit ceilings to channel more funds to priority projects, small firms, rural areas and technical innovation.
According to Jiang, the Chinese financial sector has not suffered direct impacts from the financial shock, and the nation's economic fundamentals remain sound. Therefore, he said it is crucial to boost the confidence of the whole society and guide market expectations to a positive outcome.
Shen added that with huge domestic market potential, Chinese banks can create their own financial innovations based on local conditions as well as overseas experience, and provide better financial products and services.
Hosted by the prestigious Tsinghua University, the annual Tsinghua Management Global Forum provided a brainstorming occasion for government officials, scholars, and business leaders to share their views on major economic developments. Around 400 guests attended last Friday's forum.