Archaeology uncovers plateau's heritage role
Share - WeChat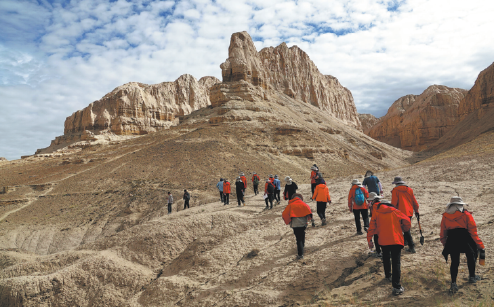 Researchers conducting a summer scientific investigation at the Gadpaserul site in Ngari prefecture, the Xizang autonomous region. This is a graveyard dating back 3,000 to 3,600 years, which is evidence of an economy reliant on herding and hunting, and has shed light on the Neolithic and Early Metal ages in the region. SUN ZIFA/CHINA NEWS SERVICE
Findings cement region's importance in the development of Chinese civilization, Wang Qian reports.
In the past three years, the Xizang autonomous region has emerged as one of the epicenters for archaeological exploration in China, leading to a wealth of knowledge being unearthed that has enriched people's overall understanding of the nation's ancient roots.
A recent conference on major new findings held in the region unveiled a trove of discoveries and the most recent progress in local archaeological operations.
Wang Junzheng, the region's Party chief, said at the conference that local government officials and archaeological authorities would enhance cultural heritage preservation, while proceeding with the foundational work, including the continuous region-wide cultural relic surveys, the improvement of related regulations and rules, regular safety checks and the crackdown on relic-related crimes.
With intensified archaeological research in recent years, he emphasized the importance of scientific excavation and research of the historical heritage sites in the region and called for further effort to bring these ancient cultural relics alive through various means, including museum construction, which will help foster the creative transformation of traditional culture.
From 2020 to the end of last year, the region has conducted more than 90 archaeological survey and excavation projects, a testament to the region's profound cultural significance. Among them, 50 were unearthed during infrastructure construction programs, such as rail and road building; 10 were rescue excavations — unearthing artifacts, environmental remains and structures that were in danger of being destroyed for various reasons, such as tomb-raiding, natural disasters or land erosion; and 30 more were dedicated to proactive archaeological surveys for planned purposes.
These endeavors have yielded remarkable findings spanning the Paleolithic and Neolithic periods to the Tubo regime (7th-9th century), and later historical periods.
Among others, one of the most significant achievements has been the establishment of a basic cultural sequence for local archaeology, greatly elevating the level of archaeological excavation and academic research in the region. As a result, archaeology in the region has garnered increasing attention from home and abroad.
Located on the Qinghai-Tibet Plateau, the region stands at the crossroads of civilizations crossing eastern, southern and central Asia. The unique position has made it a subject of great interest for scholars worldwide, who have been seeking to understand how humans have long inhabited and endured the challenging environment, developed complex social structures, and maintained communication with neighboring civilizations.
In coordination with the national archaeological excavation, and research for key infrastructure projects, archaeological authorities in the region delved deeply into the origin of humans and their activities on the plateau.
Most Popular