Practically perfect service
Share - WeChat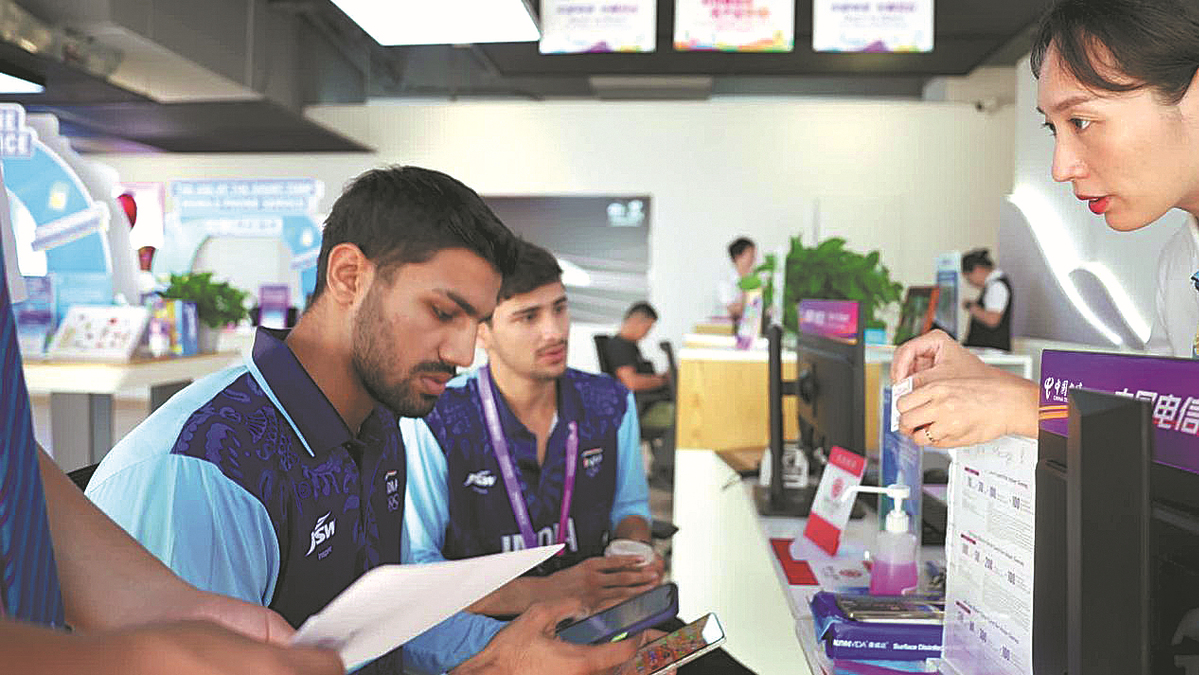 Village staff going the extra mile to solve guests' logistical challenges
The fact that people from around the continent, and even other regions, are attending the Asian Games in Hangzhou means that many local logistics have become international.
As such, organizers had a lot of preparation work to do before the event to solve the problems that athletes, technical officials and media personnel residing in the Games Village might encounter during the 19th Asiad. Among the potential issues they identified were: What to do if a visitor's mobile service doesn't work in China, and how they can buy and ship Games memorabilia to their home countries?
The China Telecom service center anticipated the problems that guests from abroad may encounter in terms of not being able to use their native mobile phone services in China.
"After numerous rounds of discussions and negotiations, we arrived on the practical solution of (SIM) rental services," said China Telecom staff member Chen Rong.
Guests can pay a refundable deposit and receive a SIM card lasting either seven, 15 or 30 days, with corresponding data allowances and international call times.
International mail services are also in high demand, since many Games souvenirs and other items, like equipment and luggage, are cumbersome to personally carry during trips abroad.
Wu Xinyu, a staff member working in the Village's YTO Express service center, said some items require special packaging, especially if they are fragile or unusually shaped. Wu cited an instance in which a guest shipped an Iranian musical instrument to their homeland. The couriers carefully wrapped it with foam tape and found a box of a size and shape that could protect the item en route.
"We adapt our approach, selecting different methods according to the specific courier items, to provide services that cater to our customer base," said Wu.
"To prevent any potential damage from excessive movement during transit, these steps, such as assembly, cutting, and padding, are all vital."
One team official from Vietnam said: "I bought quite a few Games souvenirs, but it's not convenient to take them back home myself. This service makes it much easier.
"These items symbolize the delightful moments I've enjoyed at the Hangzhou Asian Games Village. Sending them home allows my family to share the happiness of the Games and the warmth emanating from the village."
Most Popular
Highlights
What's Hot