Make tracks further afield
Share - WeChat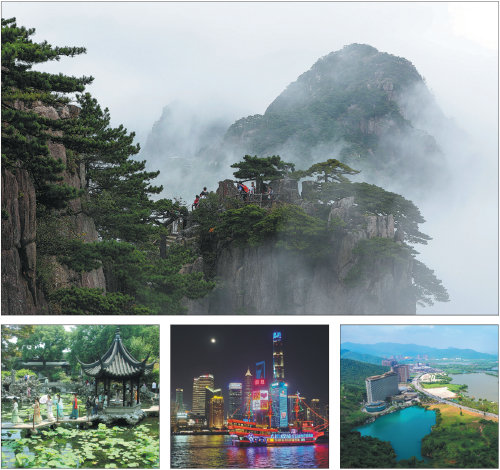 While Hangzhou has plenty to offer visitors to the Games, for those with a bit more time, the city, via its high-speed rail links, is the gateway to explore the wider Yangtze River Delta, Lin Shujuan reports
The 19th Asian Games is more than a continental sports gala. It can also be a great opportunity to get to know the host cities, and if time allows, to explore more of China.
Hangzhou, with its rich history, culture and beautiful landscapes, has long been a popular destination for domestic and international tourists.
It has so much to offer that it can be a challenge to fit it all into a short trip. Fortunately, for those with limited time, the three robot mascots of the 19th Asian Games serve as an ideal guide for first-time travelers.
Congcong, Lianlian and Chenchen represent the Archaeological Ruins of Liangzhu City, the West Lake, and the Beijing-Hangzhou Grand Canal, respectively, all of which are inscribed on the UNESCO World Heritage list.
As a major city located in the Yangtze River Delta, Hangzhou also serves as a gateway to tour the delta region, which features the country's most sophisticated high-speed rail network that reduces travel between major cities across the region to within two hours.
As well as its convenient transportation and world-class accommodation, the delta region attracts many domestic and international travelers with its charming night views, classical gardens, poetic water towns, tasty food and traditional Chinese culture.
8Therefore, for those with the luxury of having time on their hands, a tour beyond Hangzhou, and even Zhejiang province, is highly recommended.
Shanghai, one of the largest and most developed cities in China, which is about one hour away from Hangzhou by train, tops the list, which also includes the five co-host cities in Zhejiang province, the major cities of Jiangsu province, such as Suzhou, and Huangshan, a city in Anhui province which is home to the Huangshan Mountain.
Ningbo, which means "calm waves", is one of China's oldest cities. It boasts the country's earliest extant library building, dating back to the 16th century, and is a busy shipping port for foreign trade, especially textiles, while Shaoxing is known for its water towns and yellow rice liquor.
Huzhou, the only city in China named after the Taihu Lake, is a pioneer in building beautiful countryside attractions, with many boutique hostels. Wenzhou, known in recent decades for its entrepreneurship, is the "land of natural poetry", while Jinhua is famous for its ham, a local specialty.
While a return trip to the co-host cities within a day is possible, it is recommended to set aside at least two days for Shanghai. Spend a day exploring the city's downtown, including the Bund, the skyscrapers in Lujiazui, Yu Garden, Shanghai Museum and the city's former French Concession area. The extra day is needed to visit either Shanghai Disney Resort or Zhujiajiao Water Town in the suburbs.
A longer tour can go on to include the cities of Jiangsu, such as Suzhou, Wuxi, Yangzhou and Nanjing, all within an hour on the train from Shanghai.
Suzhou has earned a reputation as a tranquil haven thanks to its intricate gardens, smooth silk and picturesque water towns.
For those inspired by the feats of athleticism on show at the Games, Huangshan is a good place to test their physical fitness. The Huangshan Mountain, another World Heritage Site, is known for its unrivaled natural scenery featuring peculiarly shaped rocks and majestic pine trees. Villages in the nearby area, such as Xidi and Hongcun, are living museums of ancient Huizhou culture. Hongcun was featured in the 2001 Hollywood blockbuster Crouching Tiger, Hidden Dragon.
For those with more than a week at their disposal, a trip further north to Beijing should be on the cards.
As China's capital city, Beijing is the country's political and cultural center, home to a number of the nation's historical landmarks, such as the Forbidden City, the Great Wall and the Temple of Heaven. Above all, fall is about the best season to enjoy the city.
The only challenge lies in acquiring train or air tickets for the trips. As the Asian Games coincides with the National Day holiday, the traditional peak season for domestic travel, tickets are in high demand for both planes and trains. Travelers can apply for a ticket for the latter by signing up to the waiting list through the official rail booking app, or calling 12306. The chance of getting one just prior to departure can be as high as 75 percent, according to the rail authority. Once the holiday ends on Oct 6, though, tickets will be much easier to come by.
So plan ahead, get set and go.