Travel guide to Hangzhou, a paradise on earth
Share - WeChat Hangzhou is now in the spotlight as the main host of the 19th Asian Games.
Hangzhou, the capital city of East China's Zheijiang province, is one of the seven ancient capitals of China, having served as the capital of the Wuyue Kingdom during the Five Dynasties (AD 907-960) and the Southern Song Dynasty (1127-1279). As a core city of the Yangtze River Delta, Hangzhou has been one of the most prosperous cities in China for more than 1,000 years, and is home to a myriad of natural attractions and historical legacies.
Marco Polo, the famous 13th century Italian traveler and merchant, described Hangzhou as "beyond dispute, the finest and the noblest in the world".
Now as Hangzhou has grabbed the world's attention, tourists from various places have gathered to this heavenly city to enjoy its slow life tempo and beautiful natural surroundings. Here are some highlights of the city you can't miss.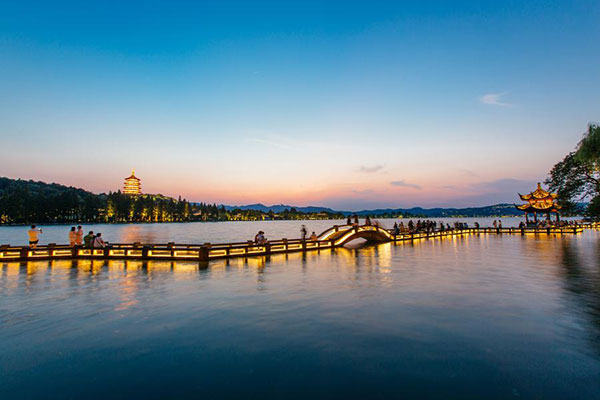 1 West Lake
The West Lake is definitely a place people can never miss when visiting Hangzhou. The lake itself covers 6 sq km, and includes some of Hangzhou's most famous scenic places.
There are "10 scenes of West Lake" and "10 new scenes", but it is not necessary to make a checklist and walk back and forth to look for these scenic spots.
Just walk casually along the Nanshan and Beishan roads and the causeways, take a ferry on the boat to the islands on the lake, or simply sit in a lakeside teahouse and enjoy the picturesque views and the longjing (dragon well) tea.
The lake is situated in the center of the city, with convenient public transport access. The Hangzhou government also offers free public bikes for tourists to travel around the lake. The parks around the lake are all free to visit.