All forms of exercise share similar goal
Share - WeChat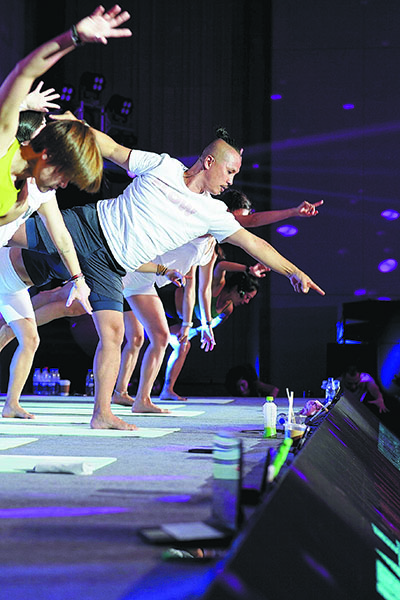 I started practicing Korean martial arts when I was seven and then for my whole young life. In my early 20s, I felt a little bit disappointed with traditional martial arts and I wanted to do something not only physical but with meaningful movements.
Then I traveled to the United States and found yoga.
The core of martial arts and yoga is the same, that is focusing on the present moment, calming the mind and controlling the body. I found the only difference between them is the speed of movement. Yoga is slower, and it helped me calm down and control my movement and mind at a slower pace. I gained a love toward yoga.
But then again, after a while of practicing I was a little bit disappointed with yoga too, as the teachers stress holding onto traditions just like martial arts masters do. I wanted to make some changes and push the evolution to the next step.
In the 1990s, I kept looking for teachers who were doing something, for example, approaching yoga with music, that makes practicing more modern, but I couldn't find any. We didn't have the internet back then.
Then I made the important decision — OK, nobody is doing this, then I'm doing this.
From 2000 to 2008, I was experimenting and trying to achieve one thing, that is how to connect traditional yoga and its philosophical basis with modern society, providing practitioners health and happiness without getting religious.
Then I came up with Inside Flow. In the first five years, we got much rejection and pushback from the yoga world. They say this is not yoga, it's more like dancing and it's too modern.
It sounds weird but I was quite satisfied with this reaction, because I knew every time when a revolution starts, people reject it at first. The stronger the rejection, the more likely it's going to be a revolution. I knew for sure that it was going to change the yoga world.
The essence of true yoga is that through physical movement, you connect with your heart and true self. That's why I still define Inside Flow as yoga, because the essence is the same.
The moment I taught the first class was on May 25, 2008, in Austria. The students enjoyed it so much and gave me so much positive feedback that I contacted my lawyer to get it patented.
In the past 15 years, I trained and certified nearly 20,000 Inside Flow teachers around the world directly.
Until today, when I hear the music and see the whole crowd moving at the same time and one unity to the beat, and it doesn't matter if you are Chinese or Korean or Japanese or German or American, I still get goose bumps all the time. The practitioners too, I think, and obviously they also get a lot of sweat and tears.
It's the power of music. The recipe of Inside Flow is quite unique. It's yoga movement, deep breaths, the music beat and the emotions that people feel during the practice. It's physical and emotional, and it involves body and mind. So that's why it's addictive.
The aim of traditional yoga is enlightenment — the opening of all the energy centers and then people get enlightenment and become wiser.
We don't look for this. Inside Flow just wants to make people happier. We achieve this very down-to-earth goal in every single class.
I'm traveling more than 200 days a year to teach teachers. But when you ask my son, who's eight years old, why is your father hardly home, he says that my dad has a dream, and he's working really hard for his vision.
In 2016 I was teaching Inside Flow in Bali during Spring Festival, and there were so many Chinese people. In 2017, I was invited to China for the first time.
As long as you like to move to music, you're very welcome in Inside Flow.
It doesn't matter how old you are or who you are. Your movement doesn't have to be perfect, because it's not a performance and it's not for showing others. It's for yourself.
Related:
Most Popular