Popularity of modern yoga stretches across nation
Share - WeChat More people turn to ancient pastime to improve health, mindfulness
Over the summer, a number of mass public yoga events were held across the country where people from all walks of life could be seen exercising not just their bodies but their minds too.
The scenes were an indication of China's growing number of yoga practitioners drawn to the ancient physical, mental and spiritual practice whose roots stem back to some 5,000 years ago.
According to a report on the yoga industry in China, from 2017 to 2021 the number of yoga studios in the country tripled to 42,000, and it's estimated that at least several million people in the country practice yoga regularly, while more people occasionally do so, with the most prominent segment being women.
China's yoga-wear market, dominated by upscale brands such as Lululemon, increased in scale from 2.6 billion yuan ($355.8 million) in 2013 to 14.1 billion in 2021, according to a consumption report by Chinese e-commerce retailer JD.
The increase in the number of people who've started practicing yoga, in its many forms, over the past few years is closely related to the nation's Healthy China 2030 initiative first put forward in 2016.
A central mission of the Healthy China 2030 vision is promoting healthy lifestyles and providing better access to healthcare for all.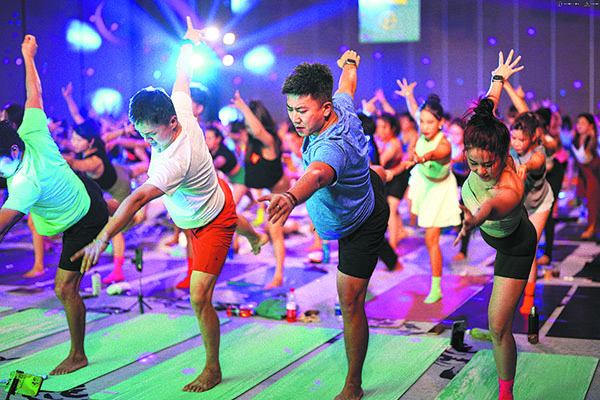 From 2012 to 2019, the health literacy level among Chinese people increased from 8.8 percent to 19 percent, according to the Chinese Center for Disease Control and Prevention, and the percentage continues to climb.
For yoga, its ability to be easily practiced in the home has also worked in its favor over the past three years during the pandemic, when people were required to remain at home for extended periods to halt the spread of the virus.
Countless videos and digital classes were available online and provided and ideal healthy activity for the temporarily housebound.
For many who live in big cities and who have busy work schedules, yoga is also an ideal activity as it not only provides physical exercise but also has a focus on mindfulness, something that stressed city workers are drawn to.
In addition to the traditional styles such as Hatha Yoga, Iyengar Yoga and Ashtanga Yoga, modern yoga systems like Rocket Yoga, Yin Yoga and Universal Yoga have emerged and become popular in recent years.
Most Popular