Biden impeachment hearing begins
Share - WeChat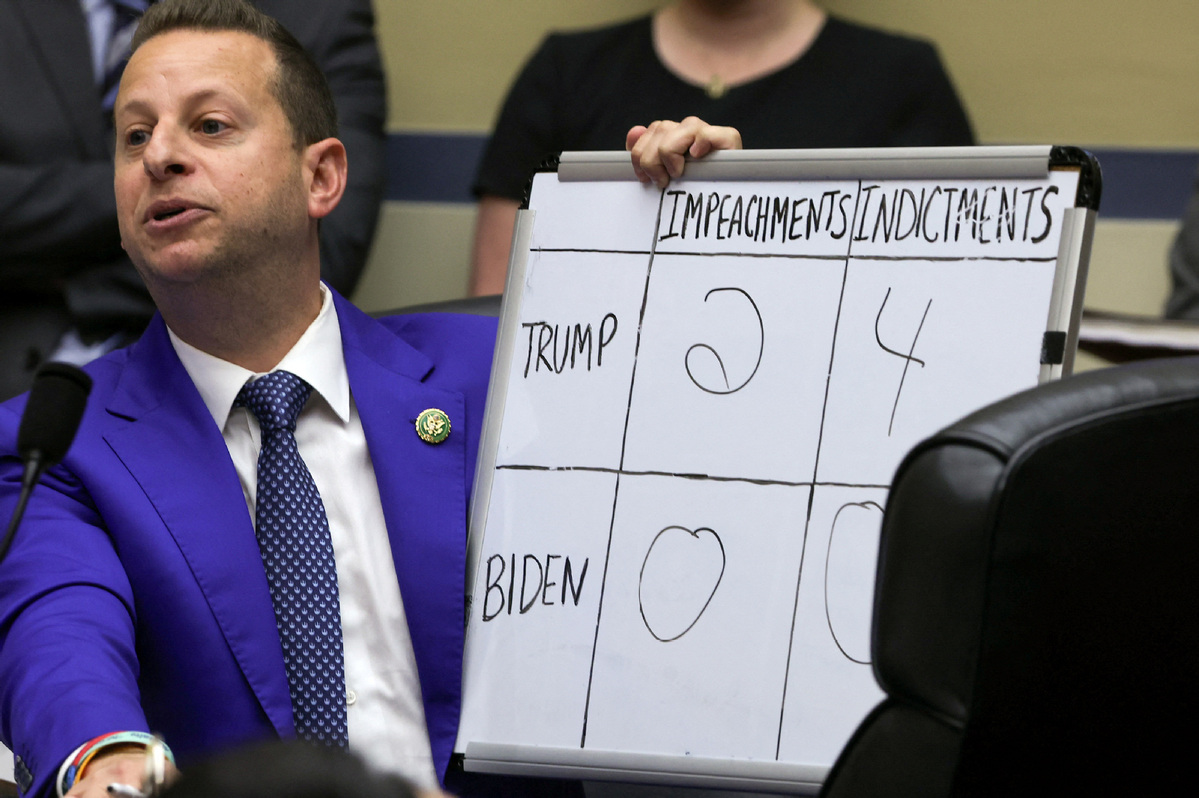 WASHINGTON — US House Republicans launched a formal impeachment hearing on Thursday against President Joe Biden, promising to "provide accountability" as they probe the family finances and lucrative business dealings of his son Hunter and make their case to the public, colleagues and a skeptical Senate.
The chairmen of the Oversight, Judiciary, and Ways and Means committees used the opening hearing to review the constitutional and legal questions involved with impeachment. They are trying to show what they say are links to Biden's son Hunter Biden's overseas businesses, though key witnesses said they do not yet see hard evidence of impeachable offenses.
Republican James Comer, the Oversight Committee chairman, said the lawmakers have "a mountain of evidence" that will show that the elder Biden "abused his public office for his family's financial gain".
Hours after the hearing wrapped, Comer issued subpoenas for additional banking records from the personal and business accounts of Hunter and the president's brother, James Biden. He said the panel will continue to "follow the money and the evidence to provide accountability."
It's a high-stakes opening act for Republicans, taking place just before a potential federal government shutdown, as they begin a process that can lead to the ultimate penalty for a president, dismissal from office for what the Constitution describes as "high crimes and misdemeanors".
The White House pushed back with statements throughout the hearing saying nothing can distract from the Republicans' inability to govern as the shutdown loomed. Spokesperson Sharon Yang called the hearing a "baseless stunt" and said, "President Biden will always stay focused on the priorities of the American people — not these political games."
The more than six-hour hearing came as House Republicans face scattered resistance to an impeachment inquiry from their own ranks and deep reluctance in the Senate from Republicans who worry about political ramifications and say Biden's conviction and removal from office are unlikely.
As the hearing began, Democrats displayed a screen showing the days, hours and minutes left until the government shuts down as Congress struggles to fund the government before Saturday's deadline.
"We're 62 hours away from shutting down the government of the United States of America and Republicans are launching an impeachment drive, based on a long debunked and discredited lie," said Jamie Raskin, the top Democrat on the Oversight panel.
The hearing on Thursday did not feature witnesses with information about the Bidens or Hunter Biden's business. Instead, the panel heard from outside experts in tax law, criminal investigations and constitutional legal theory.
The impeachment inquiry hearing is taking place as the federal government is days away from what is likely to be a damaging government shutdown.
Xinhua