China clocks world's 2nd best time in men's 4x100m medley relay victory at Hangzhou Asiad
Share - WeChat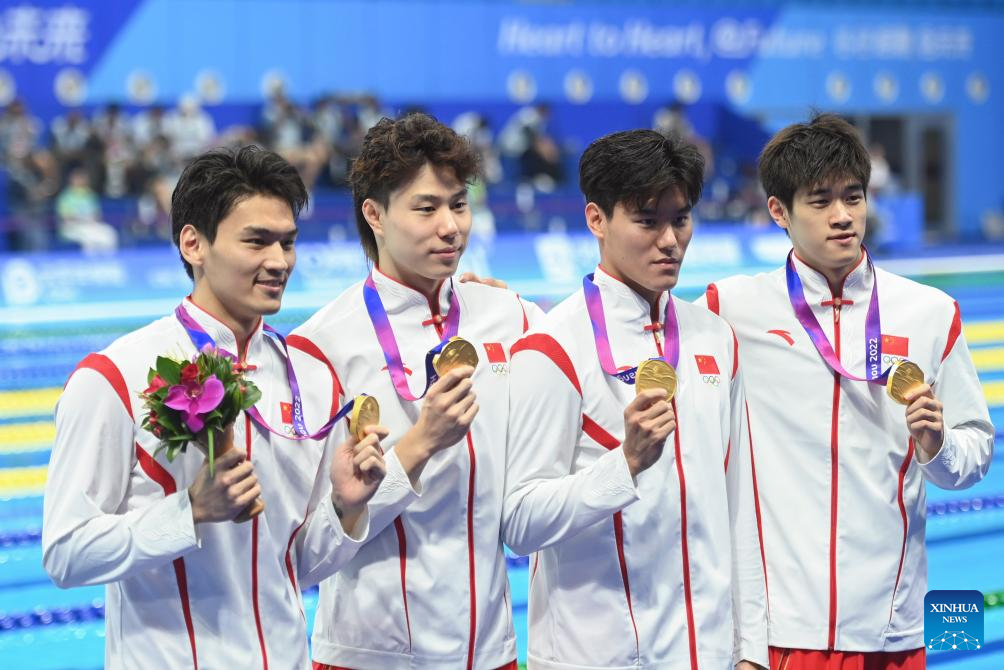 HANGZHOU -- Chinese swimmers demonstrated dominance by winning four of six gold medals on offer at the Hangzhou Asian Games here on Tuesday.
Boasting world champions Qin Haiyang and Xu Jiayu, China won the men's 4x100m medley relay with a new Asian record time of three minutes and 27.01 seconds. The result also ranked second in the all-time world rankings, 0.23 seconds behind the world record set by the United States.
South Korea took the second place in 3:32.05, while Japan came third after clocking 3:32.52.
"We had hoped to break the Asian record before the match, but suddenly we were close to the world record, so our goal now is to break the world record," said Xu.
"Today's performance was quite unexpected. We had thought we would have to wait until the next year to close in on the world record, so tonight we put on a really good performance," Qin told Xinhua.
"Our goal has always been to win the gold medal at the Paris Olympics next year. Now I think it's even more exciting and the four of us are more motivated to do that," the breaststroke specialist added.
Asian record holder Li Bingjie was in a class of her own in the women's 400m freestyle. She led after 50 meters and never looked back, pocketing her third gold at the Hangzhou Asiad with four minutes and 1.96 seconds, a new Games record. Her teammate Ma Yonghui came second in 4:05.68 and Waka Kobori of Japan finished third in 4:07.81.
"It was a little pity as I think I could have finished the event in less than four minutes," Li admitted.
Talking about her goal for the Paris 2024, the 21-year-old said that she will try her best to narrow the gap with her idol Katie Ledecky.
Peng Xuwei, the bronze medalist of the 2023 World Aquatics Championships, built a huge advantage on her way to win the women's 200m backstroke in 2:07.28, while Liu Yaxin of China and Lee Eun-Ji of South Korea settled for second and third respectively.
Fei Liwei, 20, claimed the men's 1500m freestyle title with a time of 14 minutes 55.47 seconds, which sits second in the Asian rankings of the year. Kim Woo-min from South Korea finished second in 15:01.07 and Shogo Takeda of Japan took third in 15:03.29.
Elsewhere, Siobhan Bernadette Haughey of Hong Kong, China touching the wall first in the women's 100m freestyle in 52.17 seconds, a new Asian record, and she was followed by two Chinese swimmers Yang Junxuan and Cheng Yujie.
In the men's 400m individual medley, Wang Shun, the gold medalist of the 200m IM event on Sunday, finished third in 4:15.12. Tomoru Honda won the first gold for Japan in the Hangzhou Asian Games swimming competition with 4:11.40, while the other Japanese swimmer Daiya Seto grabbed a silver in 4:12.88.