All-around amazing Zhang wipes floor with rivals
Share - WeChat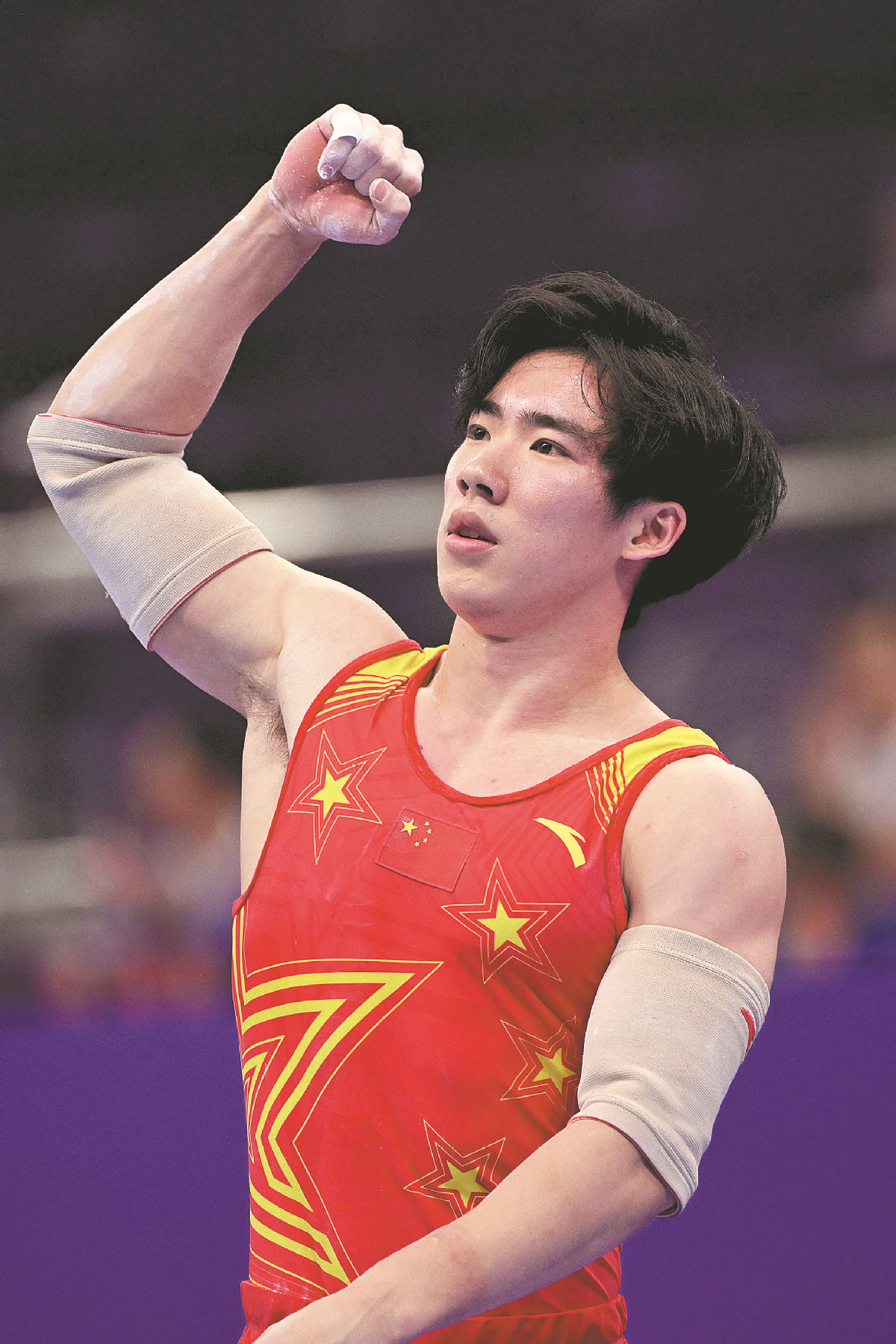 With athletes performing their stunning moves on different apparatuses at the same time, keeping up with all the gymnastics action at the Asian Games is no easy task.
But even without a center stage, there are still moments when a gymnast steals the show at Huanglong Sports Centre Gymnasium.
On Sunday, that athlete was China's Zhang Boheng.
Competing in six events, Zhang was simply sensational throughout the qualification round and final as China retained its men's team all-around title.
Cheers erupted on each of his performances. In his last rotation, the floor exercise, Zhang landed every somersault firmly, and the cheers grew louder when a high score of 14.933 points popped up on the big screen. That was enough for Zhang to rank first in the all-around qualifying competition with a total score of 88.564, more than four points ahead of his nearest rivals, Shohei Kawakami and Joryu Kitazono of Japan.
"The whole team performed very well today. We will continue to work hard to compete for gold and silver in the all-around and various individual events," Zhang told a news conference.
Born and raised in Central China's Hunan province, Zhang missed out on selection for the Tokyo Olympics. Yet after being crowned the men's all-around champion at the 2021 world championships, he has emerged as the leader of the Chinese men's all-around team ahead of the 2024 Paris Games.
A switch to a more high-intensity training regime has paid off handsomely for Zhang.
"I decided to introduce more structure into my training, and take more responsibility for it," Zhang said after the 2021 worlds. "This world title has kept me on my toes, to never rest on my laurels."
Zhang continued to impress at the 2022 world championships in Liverpool, England. Due to wrist and waist injuries, he reduced the complexity of his floor routine in the individual all-around event, but still went on to claim silver.
At the recent World University Games in Chengdu, Sichuan province, Zhang first helped China win the men's team title, and then defeated Japan's reigning Olympic champion Daiki Hashimoto in the all-around competition, ranking first in five of the six events.
Hashimoto is giving the Asian Games a miss to instead compete at the Antwerp Gymnastics World Championships — a qualifying event for next year's Paris Olympics.
Zhang lamented Hashimoto's absence in Hangzhou, but said he is still finding the motivation from within to excel. "Gymnastics has always been a sport where you compete with yourself," Zhang said. "The mentality is very important. I need to tap into my usual training mentality during the Games to reproduce what I've been doing in training."
Most Popular
Highlights
What's Hot