A spike in emotion
Share - WeChat Pakistan men's volleyball coach expresses pride in young squad, highlighting future potential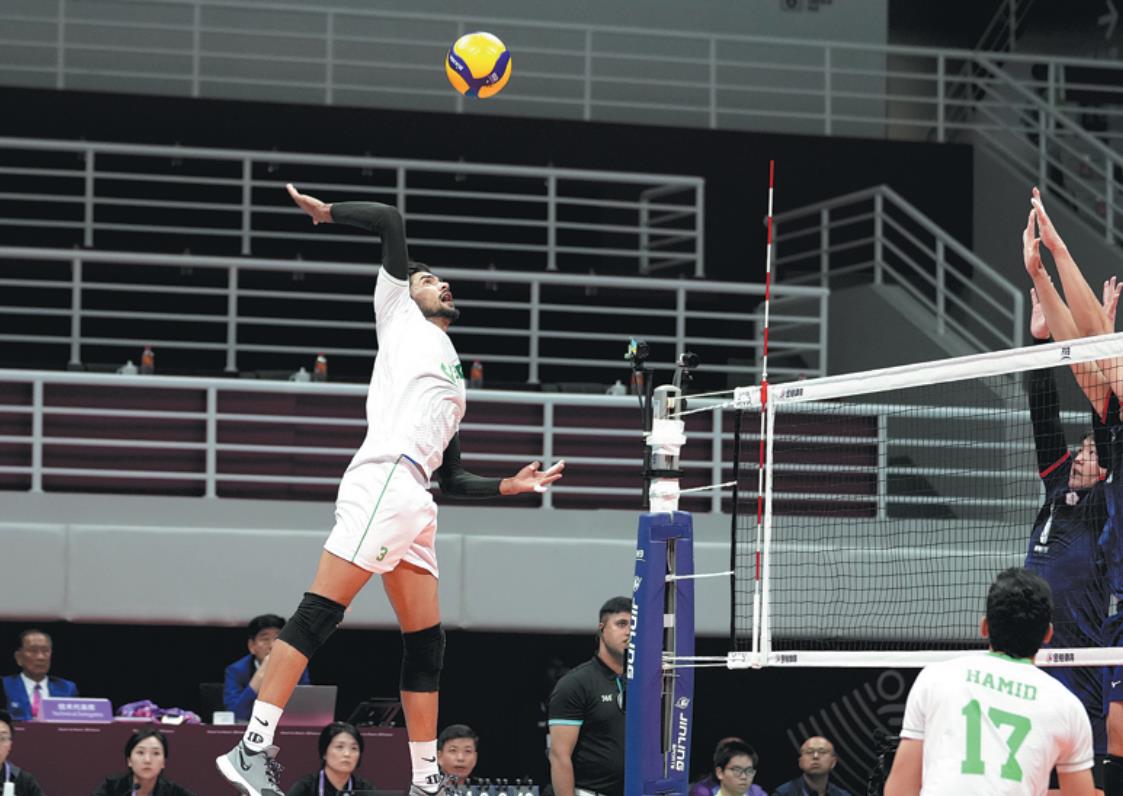 An emotional moment from Issanaye Ramires Ferraz, Pakistan's men's volleyball head coach, as he celebrated the team's 3-0 victory over the Republic of Korea on Friday, went viral on Chinese social media, proving that such underdog stories always have the power to touch people's hearts.
Ramires Ferraz from Brazil got emotional during a post-match interview after his team eliminated one of the sport's powerhouse sides — one that has dominated men's volleyball at the Asian Games, with a record of 14 medals from 15 appearances.
It is the first time that the Republic of Korea has failed to reach the podium in more than 60 years.
Although the Pakistani squad failed to keep up its winning momentum, as it was defeated by Qatar 3-1 on Sunday, the video of Ramires Ferraz is still doing the rounds online.
As an example, posts carrying the hashtag "Pakistani coach cries after victory" had been viewed over 2.2 million times on Sina Weibo, China's popular micro-blogging platform, with users expressing their congratulations and best wishes to the squad.
"There are no words to describe the size of this victory. You have no idea what these players have to go through to be on that court," said Ramires Ferraz of his team, which had secured three 3-0 victories, before ultimately losing to Qatar.
"It was difficult, but we knew it was possible due to the players' commitment and dedication, and their physical quality. We work a lot on tactics, so on each rotation we knew what our rivals would do.
"We have had sleepless nights, and others with just a few hours of sleep, and it has worked. We knew it would be difficult for them to get around our game plan. This was our strategy."
The Pakistani squad also earned the respect of their rivals. Im Donghyeok, a player from the Republic of Korea, said: "The Pakistan team is very strong, as we all know. Our team is in decline and the Pakistan team is getting better and better."
Pakistan is one of the National Olympic Committees to have benefited from the International Volleyball Federation development program and, at the Hangzhou Asian Games, the team has a full coaching staff for the first time.
"I was impressed with how they became volleyball players. They don't have youth teams, most of them lived in small, poor villages and played volleyball on improvised courts," said Ramires Ferraz.
"The Pakistan volleyball federation scouts them and brings the best into the national team. They are having the best experiences of their lives because of volleyball. I always tell them that they can change their lives with these results."
Pakistan's only Asian Games medal in men's volleyball was a bronze in Jakarta back in 1962, and it will take a little longer for the squad to fully grow and shine on the big stage.
"It is a process. We have a young team, with an average age of 23 years old," said Ramires Ferraz.
"We need to go through a long process, as Qatar did. It has been playing international matches for the last six or seven years, playing better teams and getting experience. Or like Japan, that is improving a lot in the physical aspect of the game, something we also need.
"Our athletes have never had physical preparation at an elite level. It is all very new to them, but we believe they have very good potential. The future of Pakistan volleyball will depend on investment. Hopefully, with good results here (in Hangzhou), it will be possible to get more support."
Most Popular
Highlights
What's Hot