Partnerships prove key to overseas expansion
Share - WeChat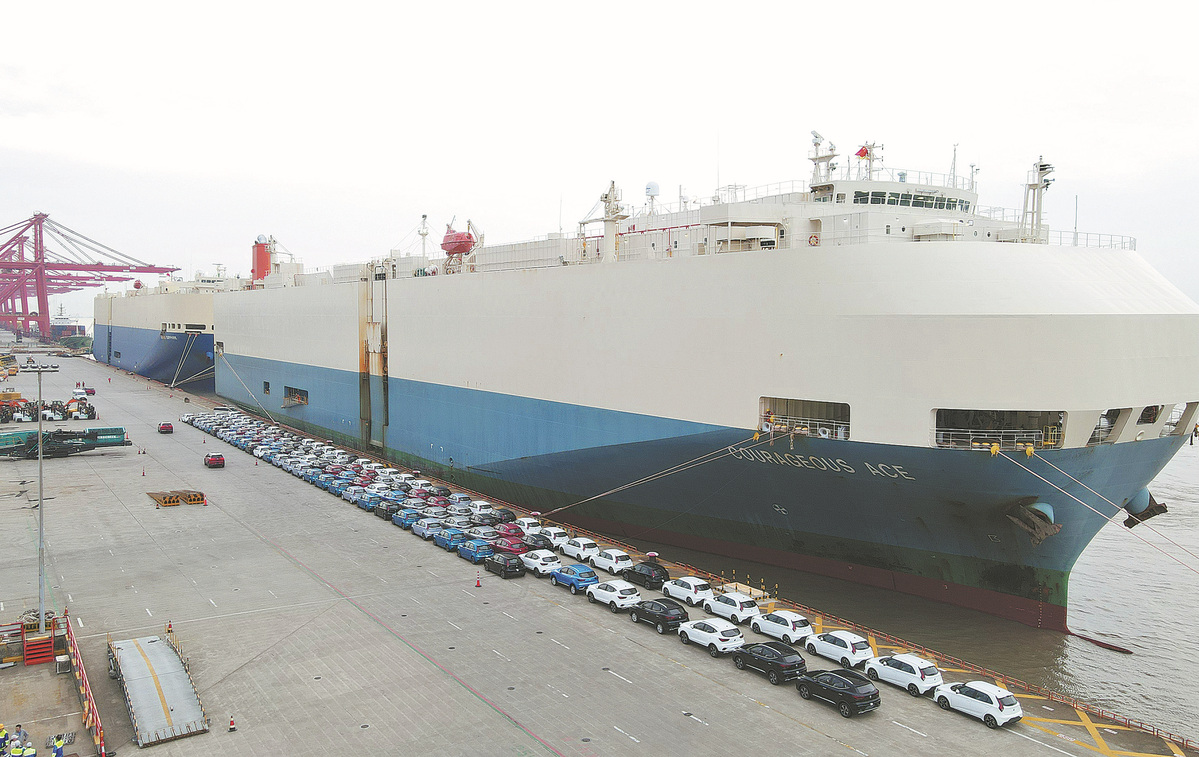 Automakers in China relying on cooperative deals with local distributors to secure growth
Chinese carmakers have chosen to partner with local companies as they explore opportunities in overseas markets.
In Southeast Asia, consumer enthusiasm for electric vehicles is rising, attracting established Chinese giants such BYD and SAIC, as well as startups like Neta.
Unlike brands such as Tesla, they did not opt for a go-alone mode.
EVs constituted 6.4 percent of all passenger vehicle sales in Southeast Asia in the second quarter, up from 3.8 percent in the preceding quarter, according to market research company Counterpoint.
BYD accounted for more than a quarter of Southeast Asia's small but fast-growing EV market in the second quarter this year, and its Atto 3 model, priced starting at $30,000 in Thailand, was the regional bestseller.
Besides attractive prices, BYD's early success is based on a pattern of partnerships with local conglomerates that reach more customers and test consumer preferences, generating win-win results.
"By providing local dealers with more lucrative profit margins, BYD can cultivate trust and loyalty, paving the way for broader expansion," said Soumen Mandal, a senior analyst at Counterpoint, in an interview with Reuters.
BYD's regional distributors include divisions of Sime Darby in Malaysia and Singapore, Indonesia's Bakrie & Brothers, Ayala Corp in the Philippines and Thailand's Rever Automotive.
"If buyers are unsure or have any concerns, partnering with established players like Sime Darby, Bakrie & Brothers or Ayala Corp will give them peace of mind, especially for aftersales support," said Chee-Kiang Lim, managing director for China at auto sales consultancy Urban Science.
BYD is investing nearly $500 million in Thailand to build a new factory that will produce 150,000 EVs per year from 2024.
Its made-in-Thailand vehicles will be sold in the country and exported into neighboring countries as well.
Also, Chinese startup Hozon, which owns the Neta brand, is building a plant in Thailand as well, which has a designated annual production capacity of 20,000 vehicles and is due to start operating in early 2024.
The carmaker's Neta-branded EVs are popular in the country. Statistics from Thai media outlet Autolife show that Neta was the second best-selling EV brand in Thailand in August, coming second to BYD.
There were also five other Chinese models in the top 10 list in the month, including carmakers Great Wall Motor and SAIC.
Besides, Hozon is planning to produce its Neta-branded vehicles in Indonesia from next year in collaboration with PT Handal Indonesia Motor.
The two will start to assemble complete cars starting from the second quarter of 2024.
Analysts said localized production will enable companies to launch products faster and to come up with products that better meet local demands.
SAIC is the largest vehicle exporter in China, selling both EVs and gasoline ones in overseas markets. The Shanghai-based carmaker sold 530,000 vehicles outside of China from January to June, up 40 percent year-on-year.
Zhao Aimin, executive vice-president of SAIC International, said one important ingredient of SAIC's success in overseas markets is to offer competitive products based on an understanding of local customers' demands.
Besides products, Zhao said a sustainable and healthy sales network is crucial as well.
"Without our local dealers, we cannot reach our customers no matter how good our products are," he said.
Zhao called on Chinese companies to have "less talk but more walk". He said there are models from many Chinese brands that don't sell in overseas markets because they are 'incompatible with local tastes'.
"Going global should be sustainable and healthy," he said. "What we should do is to offer our customers great products, enable our local dealers to make money and we will make money as well."
SAIC expects its overseas sales this year to reach 1.23 million units, with Europe, the Middle East and Mexico among its major markets, and up to 70 percent of the products will be SAIC's own brands.