Developing services sector shores up country's broad economic recovery
Share - WeChat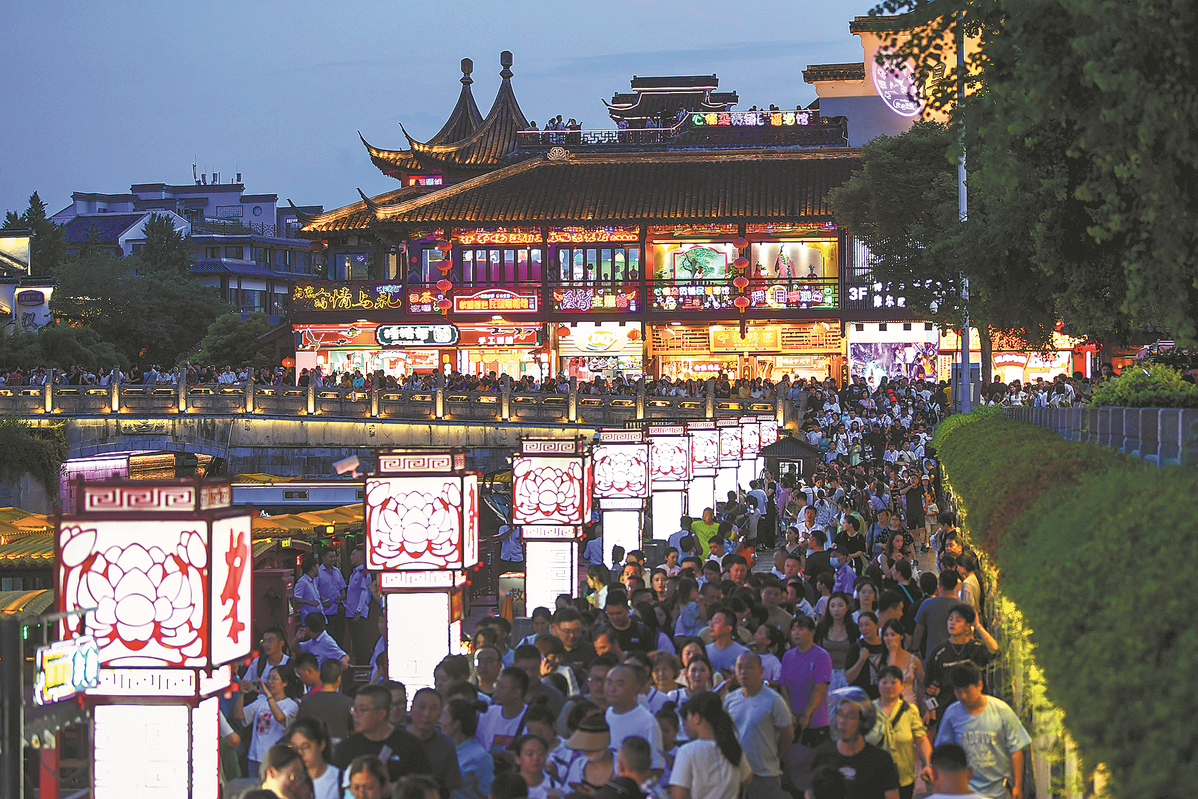 BEIJING — From cinemas to restaurants, China's service sector has bounced back this year from a pandemic-induced downturn and is playing a greater role in sustaining the economy's broader recovery.
The country's service production index rose 6.8 percent year-on-year in August, increasing from 5.7 percent in the previous month, said the National Bureau of Statistics. Retail sales in services surged 19.4 percent year-on-year in the first eight months.
"The development of the services sector has emerged as an important bright spot in economic performance this year," NBS spokesman Fu Linghui said.
As the economy and society return to normalcy, services stifled during the COVID-19 period has posted an across-the-board recovery, significantly propping up the economy, Fu noted.
In particular, contact-based services, which had accumulated huge pent-up demand, registered stellar growth.
In August, the catering sector maintained strong momentum with combined revenue up 12.4 percent from a year ago. Earlier this month, customers scrambled for Luckin Coffee's new Moutai latte, flavored with China's famous baijiu liquor, with 5.42 million cups sold the day it was launched.
Box offices have also seen an upswing. Sales nationwide totaled 20.62 billion yuan ($2.82 billion) during the summer — a new record that surpassed the pre-pandemic high of nearly 17.8 billion yuan in 2019.
Consumption of travel services is also resilient, said Yang Xin, an analyst with Hongta Securities, citing vibrant August data in a research note, including rising catering revenue, surging urban subway traffic, record national railway passenger volume and busier airline operations.
Driven by the booming travel demand during the summer, China's commercial passenger volume rocketed 57.7 percent from a year earlier last month.
Online travel agency Trip.com Group said its net operating revenue in the second quarter surged 180 percent year-on-year with record-breaking overall hotel and flight ticket bookings. James Liang, chairman of the company, said a shift in consumer demand from goods to services has led to resilient tourism.
Apart from services closely related to everyday life, Fu also noted that other types, including the digital economy and finance, have also logged rapid expansion.
The NBS data showed its index tracking the output of information transmission, software and IT services climbed 11.5 percent year-on-year in August, while that for financial services expanded 7.2 percent.
As the Chinese economy navigates the post-pandemic recovery landscape, the services sector has emerged as a powerful growth driver, contributing 66.1 percent to economic growth in the first half. China's gross domestic product increased 5.5 percent from a year ago in the first half, quicker than the 3 percent expansion of 2022.
Analysts predict that the services sector will likely maintain its brisk growth for the rest of the year due in part to a boost from the upcoming Mid-Autumn Festival and National Day holiday.
Data from multiple travel agencies have pointed to surging travel demand. Alibaba's travel branch Fliggy said in a recent report that orders for domestic and overseas trips during the upcoming eight-day holiday, also known as Golden Week, have increased by nearly six times and over 20 times, respectively, on the platform.
Looking ahead, stable employment and improving business performance will further stimulate consumer sentiment, which, along with the effects of pro-consumption government policies, will promote steady expansion in consumption and help economic recovery, Fu said.
Xinhua