Diplomat calls for bolstering China-Europe collaboration
Share - WeChat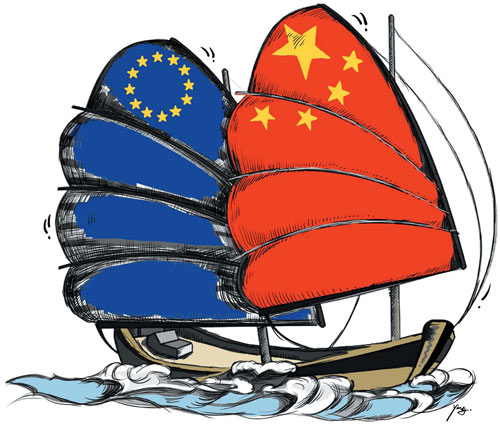 While lauding the mutually beneficial outcomes of China-Europe economic and trade cooperation, Liu Xiaoming, former Chinese Ambassador to the UK, urged for a deeper collaboration to foster even greater mutual development in this new era during his keynote speech at the 2023 China-Europe Entrepreneurs Qingdao Forum in the eastern coastal city of Qingdao, Shandong province on Sept 19.
Liu noted that high-level visits and meetings between China and Europe have yielded important consensus and outcomes, enhancing strategic mutual trust, deepening practical cooperation, strengthening international coordination and properly managing differences. These developments have provided fresh political impetus for deepening exchanges and cooperation between the two sides.
The strong resilience of China-Europe economic and trade cooperation, Liu argued, stems primarily from the win-win nature of their collaboration. As two major global powers and civilizations, their relationship has endured the test of the vicissitudes of several decades, characterized by a lack of major conflicts of interest or geopolitical conflicts. Their shared interests far outweigh their differences.
He pointed out three aspects contributing to the immense advantages of China-Europe economic and trade cooperation: First, the bright prospects of China's economic growth. China possesses a vast market with robust demand, a comprehensive supply system, and a large pool of highly skilled labor and talented entrepreneurs. As China embarks on a new journey of modernization with its over 1.4 billion people, it is set to inject new energy into global economic recovery and offer opportunities for Europe and the rest of the world.
Second, China's unwavering commitment to openness. China has consistently pursued the reform and opening-up policy and is committed to further opening up its market. It aims to reduce the negative list for foreign investment, deepen engagement in global industrial cooperation, and enhance the openness of the modern service industry.
Third, China's practical actions to uphold economic globalization. At a critical juncture in global economic recovery, China continues to uphold globalization and takes practical actions against building walls, decoupling, unilateralism and protectionism.

Liu expressed his anticipation for the future of China-Europe relations. While acknowledging Europe's desire to safeguard its own economic security, he cautioned against overstretching issues to justify de-globalization or the so-called "de-integration from China".
To achieve greater development in China-Europe cooperation in the new era, Liu offered several suggestions. Firstly, he called for deepening mutual trust and cooperation. Both sides should collaborate on organizing the next round of China-Europe leaders' meetings, high-level dialogues on strategic, digital, economic, and trade issues, as well as professional consultations.
Secondly, he urged a strengthening of open cooperation. China will host the Third Belt and Road International Cooperation Summit Forum later this year to review achievements and outline the future, presenting a prime opportunity for European business leaders to actively participate in the high-quality Belt and Road Initiative, thereby expanding common interests.
Lastly, Liu encouraged both sides to expand high-quality cooperation. Both sides should strengthen cooperation in clean energy, sustainable finance, artificial intelligence, and scientific innovation so as to keep deepening China-Europe cooperation in green and digital partnerships.
Liu concluded his speech with a European saying: "The effort of one person is addition, but the effort of many is multiplication." He expressed his belief that with unwavering confidence and clear direction, China and Europe can overcome barriers to cooperation, transforming addition into multiplication.
Most Viewed in 24 Hours
China Views