Landscapers ensure an even greener Games
Share - WeChat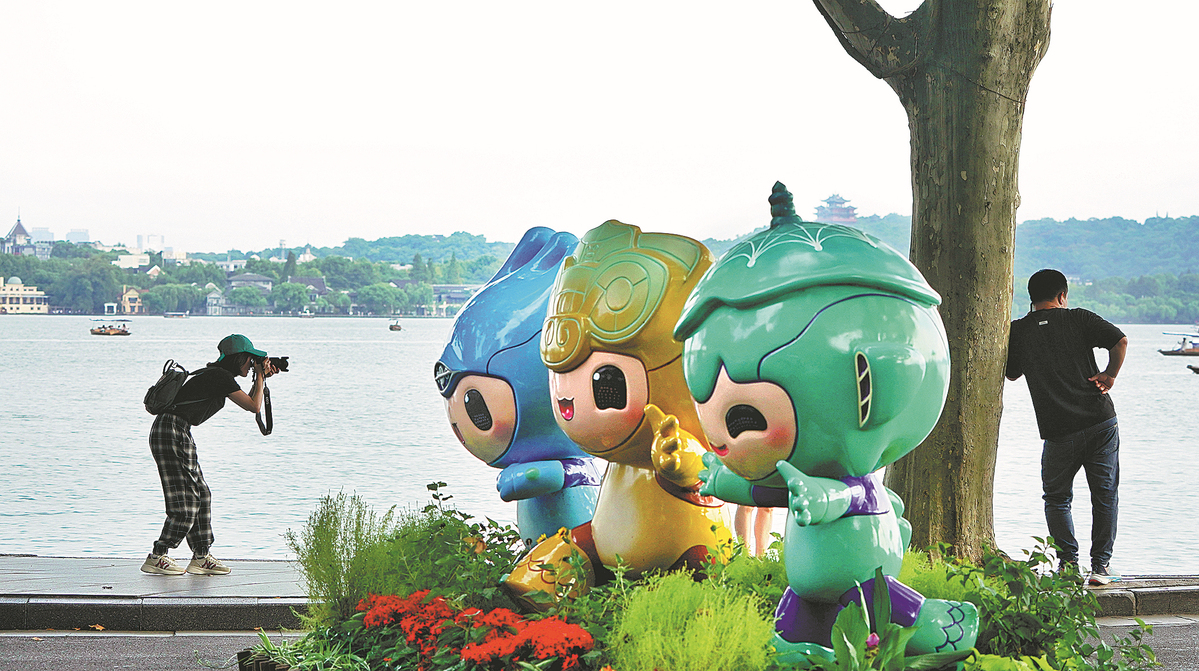 Hangzhou undergoes horticultural makeover prior to hosting continental sporting gala
Hangzhou has given its landscaping a new green sheen and floral flourish ahead of the Asian Games.
The event's host city had expanded urban green spaces by more than four square kilometers and constructed 32 provincial-level public parks by the end of July.
It also planted over 28,000 trees along the roadsides, adding foliage to more than 260 kilometers of subway lines and 50 kilometers of expressway. The provincial capital likewise upgraded nearly 440 flower containers with nearly 50,000 seasonal blooms. Two-dozen downtown locations underwent other horticultural improvements, such as reseeding and enhanced seedling care. And Hangzhou also planted an additional 12,000 trees and over 1 million shrubs, while cultivating floral arrangements at more than 200 destinations.
It opened the Asian Flower Garden in Qianjiang Century Park on Sept 6.
"We've been preparing for the games for nearly three years," said municipal gardens and cultural relics bureau official Cheng Erping.
Another official from the bureau told Qianjiang Evening News: "The games is an international sports extravaganza and serves as an important platform for showcasing Hangzhou's charm and achievements. This calls upon landscaping experts to come together to present the region's beauty to the world."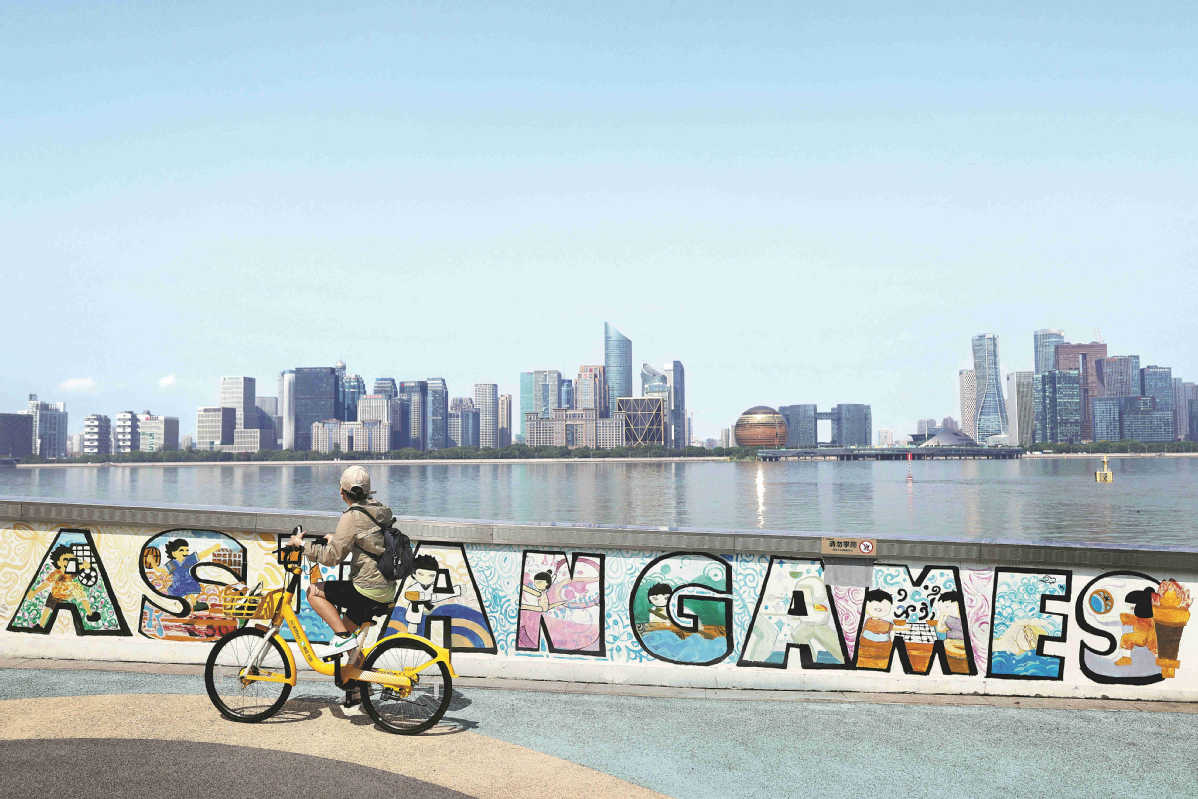 Cheng points out Hangzhou is known for its landscapes, so the recent upgrades should integrate nature with its unique urbanity.
"We've manipulated the blossoming periods of Hangzhou's signature blooms, including osmanthuses, lotuses and roses," she explained.
"We're using our technical capabilities to ensure a profusion of blossoms for guests from around the world."
More than 230 projects have been initiated in the city's Gongshu district to improve roadways, landscaping and lighting. They cover 19 categories, such as games' venues, thoroughfares, hotels, commercial complexes and residential communities. The intersection of Fengqi, Qingchun and Huanchengxi roads, as well as another site at No 8 Huanchengxi Road, now host "pocket" parks.
One of these mini green spaces features a flowerbed arrangement called Yunduansaishi (Cloud Race) that's shaped like a giant fan decorated with such elements as the games' emblem, osmanthus blooms and athletes. Red flowers spell out characters that read, "It's Hangzhou I adore", quoting Tang Dynasty (618-907) poet Bai Juyi's poem, Memories of Jiangnan.
The Xinhuo (Eternal Flame) flower display looks like commemorative coins "engraved" with Hangzhou's UNESCO World Heritage sites — West Lake, Liangzhu and the Grand Canal — as well as water ripples and flames to depict the passing of the games' torch. Xihushengjing (West Lake Scenic Beauty) uses lotus leaves and folding fans to harken to the iconic water body's splendor.
Ge Juan, who lives nearby, says: "The Asian Games aren't just about the athletes' performances but are a festival for people from home and abroad. And that celebration has begun."
A pocket park on the north side of the historical district's Dadou Road is, perhaps, indicative of the improvements made in the lead-up to the games, which have also attracted a growing number of visitors from the neighboring areas. Authorities improved lighting, trimmed overgrown branches that blocked walkways and planted foliage in previously barren soil. They also increased botanical variety while planting over 400 square meters of shrubs, including hydrangeas and Chinese pink herbs. Part of the lighting improvements include illuminated art installations that assume such shapes as dandelions and the moon.
"There wasn't much to see in this area before," said local resident Chen Yi.
"But it's a different story now. At night, you can read ancient poems projected on the ground a few steps in front of a light that's shaped like the moon. Sometimes, at night, I can't help but recite the poem to both the moon by my side and the moon in the sky."