Syrian president's visit to deepen mutual trust
Share - WeChat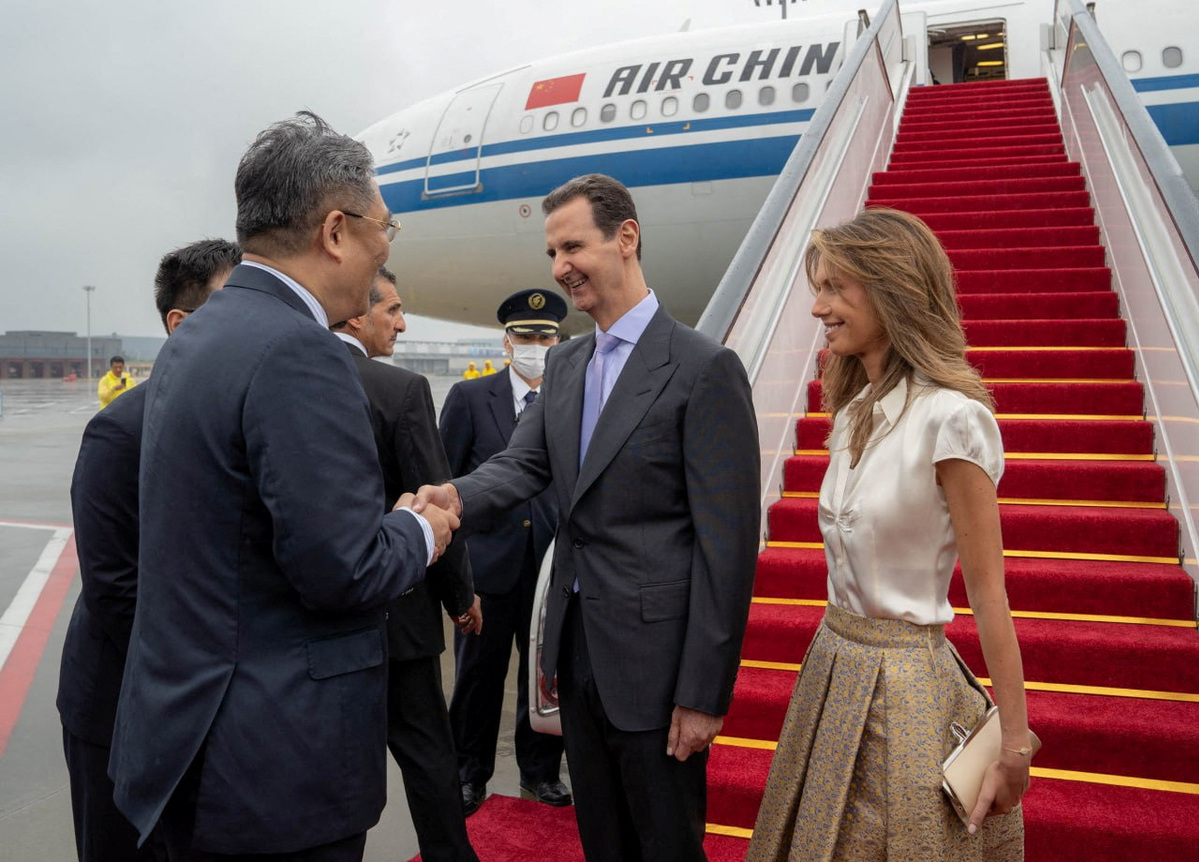 Syrian President Bashar al-Assad arrived on Thursday in Hangzhou, Zhejiang province, on his first trip to China in almost 20 years.
Foreign Ministry spokeswoman Mao Ning told a news briefing in Beijing that President Xi Jinping and other Chinese leaders will meet with Assad to exchange views on bilateral relations and issues of mutual interest.
She said that Assad's visit would "further deepen" mutual political trust and cooperation in various fields between the two countries and take bilateral relations "to new heights".
China and Syria enjoy a long-standing traditional friendship. Syria was one of the first Arab countries to establish diplomatic relations with China and was one of the co-sponsors of the United Nations General Assembly resolution in 1971 that restored China's lawful seat in the UN.
China-Syria relations have maintained sound and steady growth, the spokeswoman said, adding that Assad himself attaches great importance to relations with China.
This is the Syrian president's second visit to China since he took office in 2000.
In another development, Prime Minister Pushpa Kamal Dahal Prachanda of Nepal will make an eight-day official visit to China starting on Saturday.
Prachanda has visited China many times and made important contributions to the growth of bilateral relations, said the spokeswoman.
Noting that China and Nepal are friendly neighbors and strategic cooperative partners, Mao said that no matter how the international and regional situations have evolved, the bilateral relations have maintained sound and steady progress.
The two countries have given each other understanding and support on issues concerning their core interests, making their relationship a good example of equality and win-win cooperation between countries of different sizes, she said.
In recent years, China and Nepal have conducted frequent high-level exchanges, enhanced communication and cooperation in economic and cultural fields and maintained close coordination and collaboration on international and regional affairs, she said.
Through the visit, China is ready to work with Nepal to enhance political mutual trust, expand practical cooperation, and advance high-quality Belt and Road cooperation to elevate the bilateral strategic cooperative partnership to new heights, she said.
Both Assad and Prachanda are scheduled to attend the opening ceremony of the 19th Asian Games in Hangzhou.