China firmly opposes British interference in internal affairs: FM spokesperson
Share - WeChat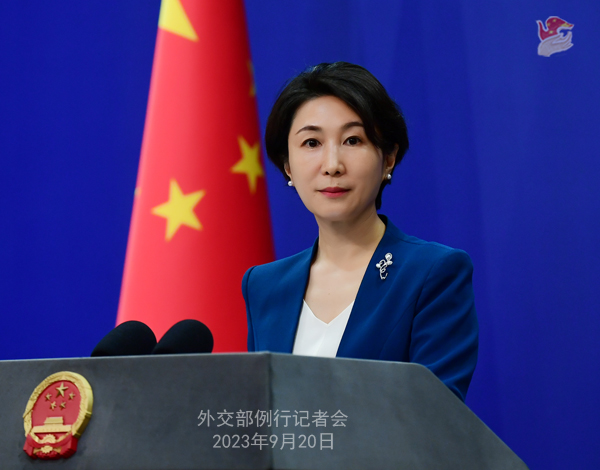 BEIJING -- China deplores and opposes a so-called report issued by the British government, which is a blatant interference in Hong Kong affairs and a violation of the principles of international law and the basic norms of international relations, a Foreign Ministry spokesperson said on Wednesday.
Spokesperson Mao Ning made the remarks at a regular press briefing when asked for comments on a six-monthly report on Hong Kong, which contains criticism on Hong Kong affairs.
"We see in this so-called report the usual irresponsible, non-factual accusations," Mao said.
Noting the success story of Hong Kong is indisputable, Mao said that since its return to the motherland, One Country, Two Systems has been a success in Hong Kong, which is widely recognized. "Hong Kong has actively integrated itself into China's development and continues to serve as an important bridge and window between the Chinese mainland and the rest of the world."
The spokesperson said Hong Kong's economy continues to thrive, and its status as an international financial, shipping and trade centre remains solid. "Constitutional order continues to function well, national security is upheld, the principle of 'patriots administering Hong Kong' is implemented, and Hong Kong enjoys bright prospects in advancing its democracy."
"The Sino-British Joint Declaration should not be wrongly cited. The essence of the Joint Declaration is to ensure that China resumes the exercise of sovereignty over Hong Kong," Mao said, adding the UK has no sovereignty, jurisdiction or right of "supervision" over Hong Kong after its return to China.
"We do not accept irresponsible accusations against the measures for law-based governance in Hong Kong." Noting that Hong Kong affairs are China's internal affairs, Mao said the legal basis for the Central government's governance of Hong Kong is China's Constitution and the Basic Law of Hong Kong Special Administrative Region (HKSAR).
The National Security Law and the improved electoral system have enabled Hong Kong to enter a new stage in which it has restored order and is set to thrive, Mao said.
The HKSAR government's law-based action regarding those suspected of violating the National Security Law is a just move to maintain the rule of law in Hong Kong and what is required to safeguard China's national sovereignty and security, she said, "It is constitutional, legal and beyond reproach."
The UK needs to know that no foreign interference will ever shake the Chinese government's firm resolve to fully and faithfully implement One Country, Two Systems and no attempt to destabilize Hong Kong will ever succeed, Mao said.