Global competitors show off Chinese skills
Share - WeChat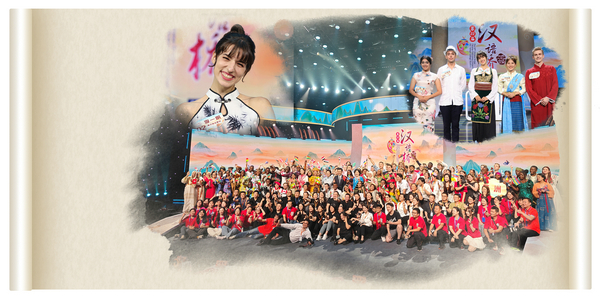 Learning a foreign language is one of the best ways to explore another culture. International students at the 22nd "Chinese Bridge" competition have shared what they love most about studying Chinese.
"This year's competition has offered a valuable global stage for young people to immerse themselves in Chinese language and culture, spotlighting the unique essence of 'Chinese Bridge' as a cultural conduit, a source of friendship, and a beacon of love," said Liu Ning, the Party Chief of the Guangxi Zhuang autonomous region.
He made this statement at the 22nd "Chinese Bridge" Chinese Proficiency Competition for Foreign College Students, held in Nanning, Guangxi, on Sept 2.
This year's event was its first offline gathering in China after the onset of the COVID-19 pandemic. Participants from Asia, Europe, Africa, the Americas, and Oceania converged to compete for the global championship. Ultimately, the European champion, Iva Ilic (Chinese name Li Yifan) from Serbia, won the coveted first prize.
Before the competition, a three-week-long summer camp for contestants was held in the picturesque cities of Baise and Guilin in Guangxi, as well as in Beijing. Over 150 young people from 124 countries and regions enjoyed the scenic beauty, historical landmarks, and vibrant folk traditions of these cities.
"China is even more captivating than its photos," exclaimed Malak Waleed Mohammed Abdelsalam, a 22-year-old graduate from Cairo University, Egypt. She has been learning Chinese since 2019 and gave herself the Chinese name Tian Shi, meaning "angel" in English.
During her visit to Nanning, the capital of Guangxi, Abdelsalam was enchanted by the traditional attire of the Zhuang ethnic group.
"The garments are resplendent with vibrant hues, and the Zhuang brocade is especially exquisite," she said.
In one of her vlogs, Abdelsalam also marveled at a charming Zhuang tradition where girls gift embroidered balls to boys they admire. With a joyful smile, she said, "I plan to take one back to Egypt for the young man I hold dear."
Abdelsalam openly acknowledged that she used to be timid and reluctant to perform on stage. However, her Chinese language studies compelled her to participate in various activities, gradually honing her communication skills.
"Studying Chinese has not only enhanced my ability to perform on stage but also bolstered my self-confidence," she said. "Moreover, it has granted me the privilege of delving into China's rich culture, interacting with Chinese people, and forming friendships across the globe."
Ace Oliver Edgar Buck, hailing from Australia (Chinese name Yi Jie), recently completed his studies at the University of Melbourne and emerged victorious for Oceania in this year's event.
Buck's fascination with foreign languages dates back to his childhood. "I have developed a profound love for Chinese history and culture, including poetry and idioms," he said. "Besides, there is a significant number of Chinese students studying at my university, which motivated me to embark on my journey of learning Chinese."
Like Abdelsalam, Buck also captured his adventures in Guangxi through vlogs, expressing admiration not only for the natural beauty of places like the Dashiwei Tiankeng — a giant karst sinkhole at Leye-Fengshan Global Geopark — and the Haokun Lake in Baise, but also for his immersive experiences in the region's rich folk culture. For example, he participated in making sticky rice and sang traditional songs.
"Zhuang culture has left an indelible mark on me. However, I understand that it is just a glimpse into the vast tapestry of Chinese culture. In the future, I will continue my Chinese studies and further explore China," said Buck.
In this year's competition, Alberto Blanco Penate from Cuba achieved a remarkable feat by securing a spot in the global top five and winning the championship for the Americas. The 24-year-old from the Raúl Roa García Higher Institute of International Relations proudly said, "This is the best result ever achieved by a Cuban contestant."
Penate, known as Bai Dehui in Chinese, observed the rapid development of China during the summer camp, particularly in the realm of mobile payment systems. He shared his academic aspirations: "As a student majoring in international relations, I intend to focus my research on the internationalization of the Chinese currency for my graduation thesis."
Sirikhwan Lijan, from Thailand, adopted the Chinese name Zhang Yirong and secured the title of Asian Champion. The 22-year-old, currently a junior at Mae Fah Luang University, recounted her early exposure to the Chinese language. "I grew up in a neighborhood where many Chinese children lived. Most of them spoke Yunnan dialect or Mandarin with a Yunnan accent, which led me to pick up Chinese with a Yunnan accent as well," she explained. "In the first grade, my mother enrolled me in a Chinese tutoring program, marking my first formal encounter with the language."
Lijan also reminisced about her method of learning Chinese during her childhood — watching Chinese channels on television at home. "When I entered high school and had the opportunity to choose a major, I decided to continue my Chinese language studies," she said.
Despite years of studying Chinese, this was Lijan's first visit to China. She reflected on the iconic Great Wall, a sight she had seen numerous times on television but was finally experiencing in person. She exclaimed, "After ascending the Great Wall, I was filled with awe."
The global champion, Iva Ilic, is a student at the University of Belgrade in Serbia. Born in 2001, she possesses an ardent passion for Chinese cuisine.
In a vlog of hers, she wholeheartedly explores a variety of local delicacies in Guangxi, including river snail rice noodles, stinky tofu, Yuxiang shredded pork, and chili pepper chicken.
"I simply couldn't resist these delicious dishes. Even during the nerve-wracking competition, a cup of bubble tea offered me solace and kept me focused until the finals," she admitted humorously.
During her acceptance speech, Ilic confessed that she had not expected to win the championship and had felt immense pressure. "Now, it's time to relax and unwind," she said.
"Before celebrating with my friends, I want to share this fantastic news with my mother and visit the world-renowned Guilin scenery after the contest," she noted. "Furthermore, I will continue my dedication to learning Chinese in the future. I genuinely hold a deep affection for China and its culture."
mengwenjie@i21st.cn
Most Popular