Ecological civilization goal of development plan
Share - WeChat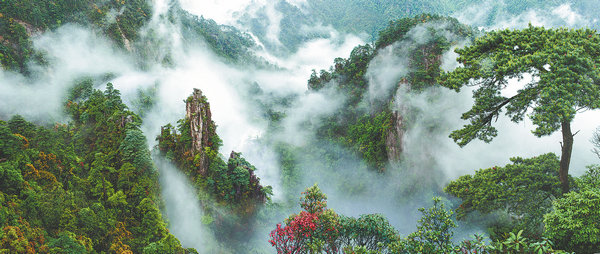 Tourism in Chenzhou, Hunan province, has witnessed a robust boom since the summer holiday thanks to the local ecological environment and high-quality development that jointly create harmonious coexistence between people and nature.
Yangtian Lake grassland is the southernmost highland grassland in China. Due to excessive development and overgrazing in the past, the grassland suffered from damage, desertification and soil erosion. Through measures such as banning grazing and ecological restoration, the water area of Yangtian Lake has increased from more than 1.33 hectares to nearly 4.67 hectares, and the grassland coverage rate has increased from 64 percent to 91 percent. Now, tourists can enjoy the beautiful scenery while horseback riding.
The Gaoyiling Danxia landform is nonrenewable. In recent years, Suxian district of Chenzhou has implemented projects such as banning waste discharge, landform restoration, soil covering, vegetation transplantation and river cleaning to significantly improve the soil and water quality and increase vegetation.
At the same time, by introducing market entities to develop scenic spots relying on the unique Danxia landscape of Gaoyiling, a 4A-level scenic spot has been created. Nowadays, Gaoyiling is crowded with tourists during holidays.
711 Time Town, located in Suxian, was once a dilapidated mine area, but now it has become a cultural landmark in Chenzhou.
The town is located in the former State-owned 711 mine, which was the first large-scale uranium mine discovered and explored in China.