Chinese jewelry artists collected by top US museum
Share - WeChat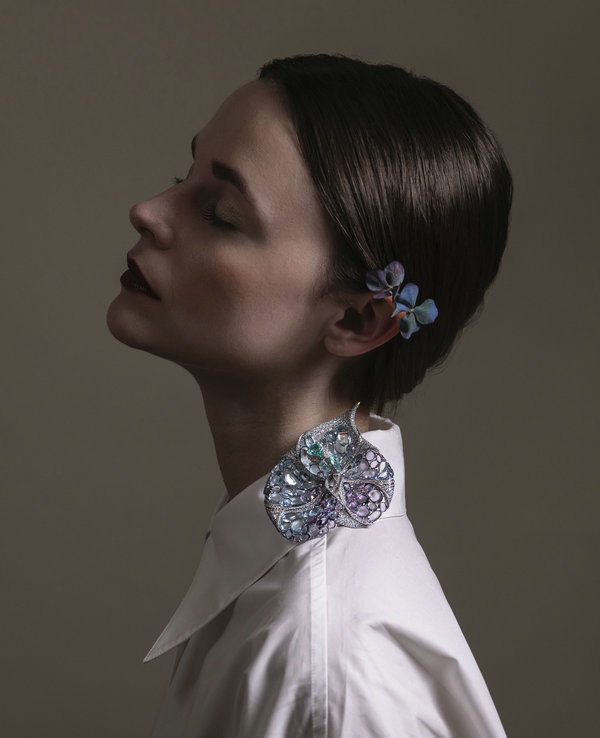 The Museum of Fine Arts, Boston, has collected three pieces from celebrated contemporary jewelry artists, including two Chinese designers, Wallace Chan and Feng Ji.
The objects are a pair of sapphire tassel earrings by Christian and Yasmin Hemmerle, Forever Dancing: Bright Star by Wallace Chan, and Blue Anthurium by Feng Ji whose house label is Feng J. These are the first works by Wallace Chan and Feng J to enter a US museum collection.
The museum in a statement says the new acquisition will be on view in the Rita J and Stanley H Kaplan Family Foundation Gallery for Jewelry when it reopens in spring 2024 following renovation. The gallery will showcase approximately 150 pieces from the museum's jewelry collection, which includes ornaments crafted over 6,000 years and reflects cultures from around the globe. The three newest high jewels will be part of the gallery's permanent collection.
"These three gifts are transformational for our outstanding jewelry collection. They represent the best of what is being created in fine jewelry today and will make a great statement about 21st-century creativity, design, materials and craftsmanship," said Emily Stoehrer, the Rita J. Kaplan and Susan B. Kaplan curator of jewelry.
"Feng J's jewelry blends traditional craftsmanship with 21st century innovation. A brilliant colorist, she paints with gemstones," she added.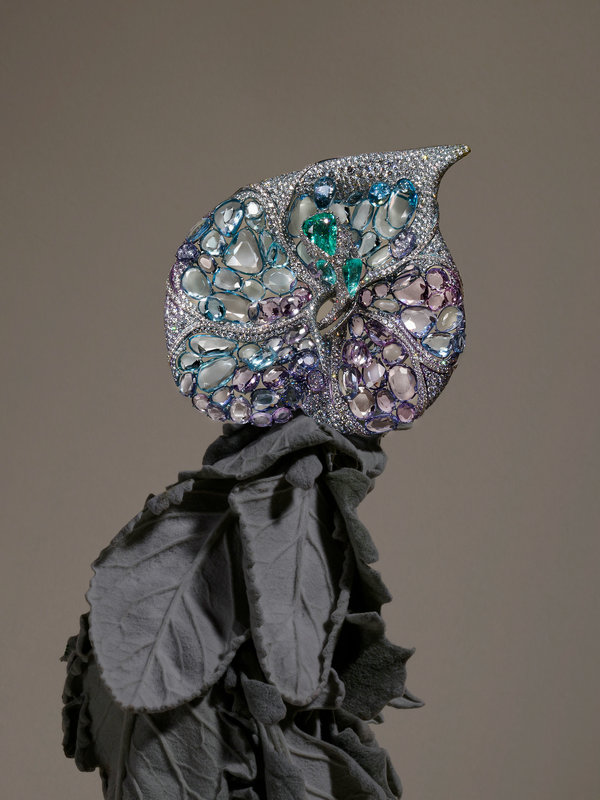 In the Blue Anthurium, Feng J uses colored stones in a "floating" setting to make the metal disappear around the gems. This technique is enhanced by the delicate way the artist applies color – through electro-forming – to white gold.
Another piece by Feng J was acquired in 2022 by Les Arts Decoratifs in Paris. Feng Ji is the first Chinese jewelry artist whose work has been collected by the art museum.
Feng, 37, started to learn Chinese painting and calligraphy at 5 in her hometown Hangzhou, East China's Zhejiang province. And later learn product design at the China Academy of Art. In 2008, she went to learn jewelry design at University of the Arts London.
After graduation, she went to the Gemological Institute of America-the world's leading authority on diamonds, colored stones and pearls-to join its graduate gemologist program. There, she gained both technical expertise and practical skills to evaluate gemstones.
Later, she went to the Gublin Academy in Switzerland. And in 2016 she was admitted to the Haute Ecole de Joaillerie in Paris, where most jewelry craftsmen of the luxury brands such as Cartier, Van Cleef & Arpels, Chanel, Dior and LVMH come from.
Most Popular