Meeting sends positive signal amid conflict
Share - WeChat Saudi Arabia security talks to help solve Russia-Ukraine crisis lauded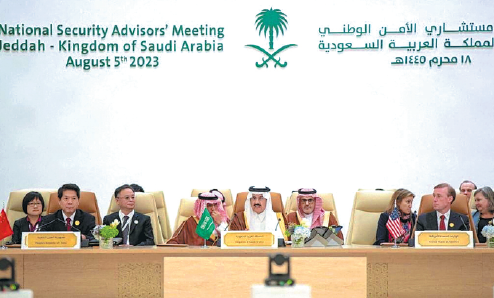 The meeting of several national security advisers hosted by Saudi Arabia in Jeddah over the weekend to explore pathways to end the Russia-Ukraine conflict sends a signal that the world is witnessing a multipolar order characterized by more flexibility, analysts said.
"Saudi Arabia wants to play a mediator role in this conflict. This role has been in line with Saudi foreign policy," Mehmet Rakipoglu, a Turkiye-based Gulf analyst and coordinator of academic studies at Dimensions for Strategic Studies, a think tank based in London, told China Daily.
Rasha Al Joundy, a senior researcher at the Dubai Public Policy Research Center, told China Daily that the meeting's context in general indicates that almost all parties "are tired from this conflict and having harsh political bills domestically".
The two-day talks on the Russia-Ukraine conflict — chaired by Saudi Minister of State and National Security Adviser Musaad bin Mohammed Al-Aiban — were attended by security advisers and representatives from over 40 countries and international organizations, including China and the United Nations.
They called for continuing international efforts to build a common ground for peace. The participants also welcomed the importance of benefiting from different views and suggestions.
Special Representative of the Chinese Government on Eurasian Affairs Li Hui attended the meeting.
Before the meeting, Chinese Foreign Ministry spokesman Wang Wenbin said that China stands ready to work with the international community to continue to play a constructive role in seeking a political settlement of the Ukraine crisis.
"China contributes to global efforts in terms of mediation. The presence of China into this meeting proves that Riyadh-Beijing ties are based on mutual trust," said Rakipoglu.
The presence of China gave the meeting an important weight and gave the moderate states a powerful position on the table, which would help to convince Russia, as well as Ukraine, to accept a peaceful deal, said Al Joundy.
'Productive consultations'
Andriy Yermak, chief of staff of Ukraine's presidential office, said in a statement that the meeting's participants had conducted "very productive consultations on the key principles on which a just and lasting peace should be built", Xinhua News Agency reported.
The dialogue did not include a representative from Russia. "The absence of Russia is not intended in a negative way. On the contrary, I think Saudi Arabia is betting on its good relations with both parties to push for peace, and it wants to set the international political scene before suggesting any meeting between Russia and other players hostile to Russia," said Al Joundy.
"What is clear is that after the Ukraine crisis, the world (would be) witnessing a multipolar world order characterized by more flexibility and political freedom. Similarly, power in this order is more fluid and it is an opportunity for regional powers such as Saudi Arabia to play their part in the new order," Mohammad Salami, an associate researcher at the International Institute for Global Strategic Analysis in Islamabad told China Daily.
He said Saudi Arabia was pursuing two economic and political targets at the same time. On the economic aspect, the new order "helps Riyadh pursue its Vision 2030" by relying on more countries "that are characterized by being non-Western and Eastern".