Blinken offers blend of US policy on China
Share - WeChat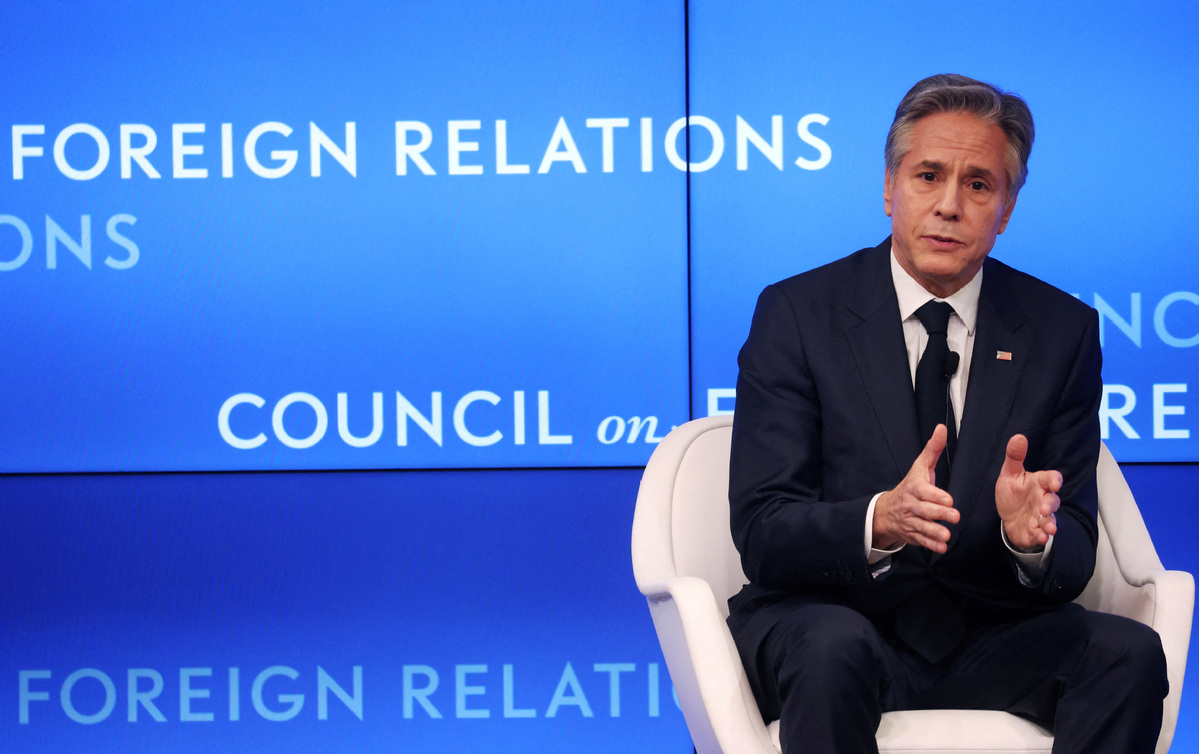 A realistic goal for American policy toward China is finding a way to "coexist peacefully" with the country that it seeks to compete with from "a position of strength", US Secretary of State Antony Blinken said Wednesday.
In a conversation at the Council on Foreign Relations (CFR) in New York, Blinken noted that there is not, at least in the near term, maybe even in the lifetimes of most people in the audience, a clear finish line of long-term competition between the two countries.
"This is more about getting to a place where we have peaceful and maybe somewhat more productive coexistence between us, because the bottom line is this: China's not going away, we're not going away, so in the first instance we have to find a way to coexist and coexist peacefully," Blinken said.
Peaceful coexistence is one of the three principles that Chinese President Xi Jinping has put forward as the fundamental, right way for the two countries to get along in the new era.
In their meeting in Beijing on June 19, Xi told Blinken that China always hopes to see a sound and steady China-US relationship and believes that the two major countries can overcome various difficulties and find the right way to get along based on mutual respect, peaceful coexistence and win-win cooperation.
Blinken made the remarks as CFR President Richard Haass asked him how to define success and what would be a realistic goal of US policy toward China in a discussion that focused on the Biden administration's approach to foreign policy.
When Haass said he was "struck" by the top US diplomat's language of characterizing the goal as to "coexist peacefully", Blinken said, "Only that, again, we're — neither of us is going away, so at a minimum, that has to be, I think, the baseline."
Blinken appeared to stress that to coexist peacefully is also an answer to the expectations of the international community.
"We have a responsibility, we have an obligation that we hear from around the world to manage the relationship responsibly, and that gets to the peaceful coexistence part. We hear this demand signal everywhere," he said.
"But that doesn't mean that we're standing still, it doesn't mean that we're accepting that as the goal, but it is the foundation. And from there, as I say, we're in a competition," Blinken said.
He said Washington is in an "intense competition" with Beijing, a long-term competition that he said the US is engaged in from a position of strength to shape what comes next.
"At the same time, we are determined that that competition not veer into conflict, which would be terrible for everyone involved," he said, adding that his trip to China nearly two weeks ago was aimed at rebuilding sustained lines of communication.
"And then finally, there are areas where, if it's in our mutual interest, we should find ways to cooperate. We talked about that as well," he said.
The notion of peaceful coexistence is also part of "restraint"–based US policies toward Beijing, proposed by Michael Swaine, a senior research fellow, and Andrew Bacevich, chairman of the board of directors at the Quincy Institute for Responsible Statecraft, a think tank in New York.
In their paper, "A Restraint Approach to US-China Relations: Reversing the Slide Toward Crisis and Conflict" published in April, they noted that Washington currently pursues largely zero-sum, comprehensive competition and confrontation with Beijing.
That should be replaced with a stable, balanced, mutually beneficial form of peaceful coexistence and bounded competition that can sustain global peace and prosperity while effectively addressing the primary threats facing both countries, they wrote.
For the foreseeable future, mutual coexistence, compromise, and balance among the great powers will have to suffice as an operative conception of "peace", according to the authors.
"This concept thus rejects the use of distorting and dangerous, usually zero-sum ideological frameworks in understanding global politics, such as 'democracy versus authoritarianism', or a singular stress on 'great power competition'," they wrote.
Blinken's rare talk of "peaceful coexistence" contrasts with the China-bashing rhetoric, especially by US presidential contenders seeking to differentiate themselves in a crowded campaign field, as the 2024 presidential election is roughly 18 months away.
On Tuesday, Nikki Haley, a Republican presidential candidate, called for ratcheting up pressure on China to address a dramatic rise in overdose deaths attributable to fentanyl in the United States by pushing Congress "to revoke permanent normal trade relations until the flow of fentanyl ends".
At a speech at the American Enterprise Institute, a right-leaning think tank in Washington, Haley, a former US ambassador to the United Nations, also pledged to push American companies to leave China.
Beijing has noted that its efforts to prevent the illegal manufacturing, trafficking and abuse of fentanyl speak for themselves, and that the US side, instead of recognizing China's contributions, has been scapegoating China.
Liu Pengyu, a spokesperson for the Chinese embassy in Washington, called Haley's remarks "irresponsible".
"China-US economic relations are mutually beneficial. Pushing American companies to leave China runs counter to economic laws and will ultimately harm everyone's interests," Liu said in a statement.
"Only those who draw attention by smearing and blame-shifting in the election campaign will end up on the ash heap of history," Liu said.