'Little Bu' fulfilling his big potential
Share - WeChat Youngster sets up dream clash with Murray in latest boost for Chinese men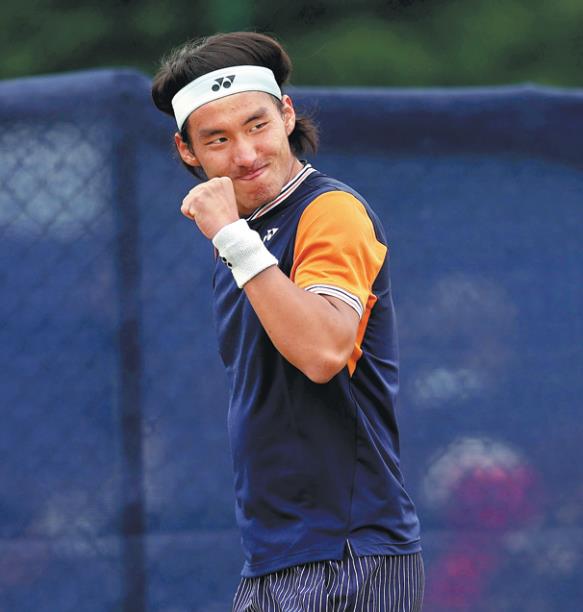 With yet another young prospect making gains in the pro ranks, Chinese men's tennis continues to go from strength to strength in a fruitful season packed full of encouraging signs.
Inspired by the surging performances of his more senior compatriots this year, Bu Yunchaokete, a young talent hailing from the Mongolian ethnic group in Northwest China, made a statement of his own on Tuesday by winning his first grass-court match on the ATP Challenger Tour at Surbiton, England.
Bu's victory set up an eye-catching second-round clash against his idol, former world No 1 Andy Murray.
Known as "Little Bu" to Chinese fans, the 21-year-old admitted the prospect of facing three-time major winner Murray on his favorite surface is the stuff that dreams are made of.
"When the dream comes true, it's really hard to describe the feeling," Bu said after beating local player Harry Wendelken in straight sets on Tuesday.
"I've been watching him (Murray) since I was like 9 or 10, and he's always been my idol. Now I have the chance to share a court with him, my excitement is beyond words," added Bu, who made it to the main draw in Surbiton via qualifying.
Bu has impressed throughout the season, winning his maiden title on the entry-level ATP Challenger Tour in Seoul in April. Last year he captured six titles on the ITF circuit in his full international season to announce his arrival on the professional stage.
The results have thrust Bu up the rankings to a current position of No 173 to join Wu Yibing (No 54), Zhang Zhizhen (No 71) and Shang Juncheng (No 200) in a surging Chinese quartet on the ATP Tour.
Born in Bortala Mongolian autonomous prefecture in Xinjiang Uygur autonomous region, Bu stole the show at the national junior championships in 2014 by sweeping the singles and doubles titles, and attracting a flurry of media interest due to his humble background.
He continued to flourish in the junior ranks on the Grand Slam stage. In January 2019, he defeated Denmark's current world No 6 Holger Rune in straight sets in the second round of the Australian Open boys' tournament.
However, a shoulder injury and the COVID-19 pandemic slowed Bu's progress before his strong return last year.
Now as the latest contributor to the rise of Chinese men in the sport, Bu is drawing inspiration from his countrymen's feats.
"Before I played the final in Seoul, they gave me a lot of confidence and sent me messages saying, 'Just be confident!'" he told ATPTour.com. "Also after today, (Wu) just said 'Believe in yourself!' because he knows that tomorrow I play my idol."
The camaraderie among the compatriots, who now all share similar challenges at the same competitive level, is helping to bring out their best, reckons Bu.
"They give me a lot of confidence because I didn't think I could be top 50 or something, but now they're close so I feel I can make it also. We have a good relationship, we text a lot," said Bu, who owns a 14-9 win-loss record on the Challenger Tour this year.
Strength in numbers
With the annual Wimbledon Championships just around the corner (July 3-16), China's men head into the grass-court season full of confidence following a series of notable breakthroughs on clay.
As the first Chinese to crack the men's top 100, Zhang last week became the first Chinese mainland player in the Open era to reach the men's third round at Roland Garros. Last month, he reached the quarterfinals of an ATP Masters tournament for the first time with a gutsy run on the clay courts of Madrid.
Wu, the 2018 US Open boys' champion, also cracked his least favorite surface in Europe after fighting all the way to the last eight at an ATP 250 tournament in Geneva, Switzerland last month.
From last year's US Open to this year's French Open, male Chinese players appeared in the main draws at Grand Slam tournaments on three consecutive occasions, matching the collective success that was previously solely enjoyed by their female counterparts.
With the season now shifting to faster grass courts, the Chinese men are expected to maintain their momentum at Wimbledon, with hopes high that all four of the country's top-200 contingent can reach the main draw, either via rankings or qualifiers.
"I think the best is yet to come," Zhang said of his peers' recent improvements. "There are three of us now (at the French Open), maybe four at Wimbledon with Little Bu catching up.
"I'm the oldest one at the moment, but we have other Chinese guys.
"I don't feel any pressure from competing with them. I would like to see them surpass me, which would mean achieving better results for our country."
Most Popular
Highlights
What's Hot