Swinging back into action
Share - WeChat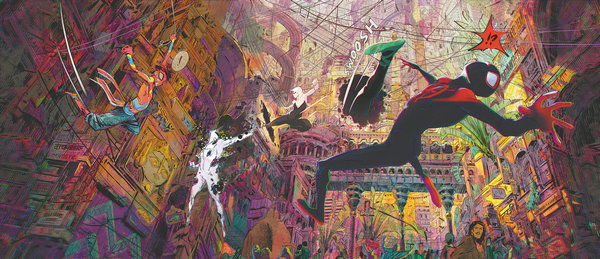 Since making his comic book debut in 1962, Spider-Man has become an icon of pop culture, racking up numerous appearances in books, cartoon series and movies. Now, the world's most famous web-slinger is swinging back into Chinese theaters with the new movie, Spider-Man: Across the Spider-Verse.
A sequel to 2018's Spider-Man: Into the Spider-Verse, winner of the best animated feature at the 91st Academy Awards in 2019, Across the Spider-Verse was simultaneously released in China and North America on Friday.
Following an accident in the first movie, where he is bitten by a radioactive spider giving him superhuman powers, Miles Morales — a teenager living with his parents in New York — is still struggling to keep his superhero identity a secret from his family. While facing a new crossroads in life as a graduating senior who's attempting to apply for a physics major at Princeton University, Morales finds comfort in reuniting with Gwen Stacy, a young woman from a parallel universe who is also gifted with spider-administered super powers.
Known as Ghost Spider, Stacy is struggling with a similar problem to Morales. She, too, is trying to hide her superhero identity from her father. With Stacy's help, Morales gains entry into the headquarters of a secret society where many people and creatures gather, all sharing the same experience as the duo — being bitten by a weird spider and becoming the super-powered wall crawler in their respective universes.
Most Popular