HK a global financing center for a new global paradigm
Share - WeChat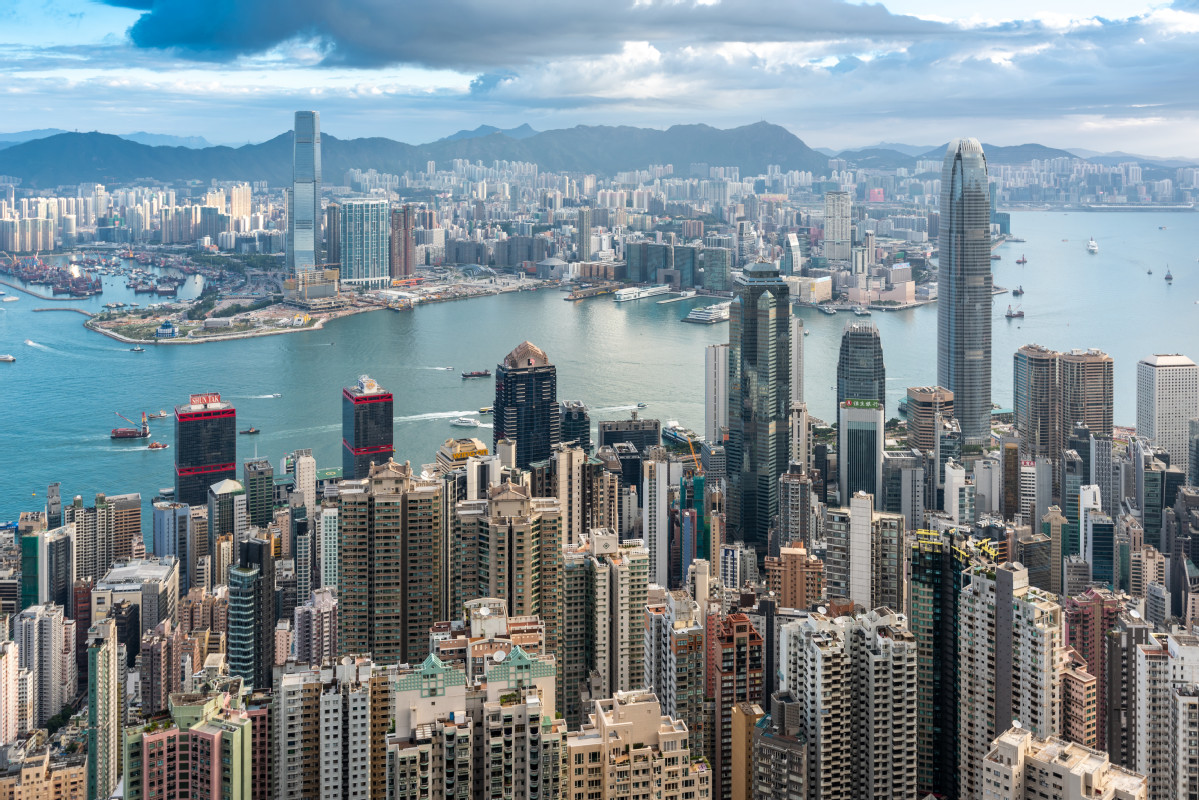 Belt and Road as a New Global Paradigm
The Belt and Road is an overarching policy for developing infrastructure through finance and ecological civilization under the overarching value of a common shared destiny of mankind. It is creating a new mega-trend that will soon become a new global paradigm. The Belt and Road as a process will promote sustainability and security in the world by bringing economic benefits to some of the most underdeveloped regions of the world.
China as a nation stands as a symbol of what was once an underdeveloped nation, becoming developed, and now leading the way in changing traditional views of development models. China's role is rapidly changing from follower to leader. The successful implementation of the Belt and Road strategy will transform China's image globally. Hong Kong will play a key role as global financial center for the Belt and Road.
The Belt and Road has the potential to not only re-balance the world economic order but re-draw the political map as well. In the new world economic order arising through Belt and Road cooperation, China will not be the passive recipient of rules of the game forced on it by the west, but rather China will be the creator of new rules.
The Belt and Road View of Globalization
Within China, economists observe that the Belt and Road is realizing a "globalization rebalance." They consider the traditional globalization approach as one that is focused on coastal regions benefitting those nations with ocean shipping access. This past focus has created a huge gap between rich and poor nations, leaving the inland countries behind in development.
China's emphasis on the new Silk Road nations that comprise a large portion of the Belt and Road will give development focus to inland routes offering new access not enjoyed since the time of the old Silk Road. However, the big difference is that the old Silk Road was a trade route. Under Belt and Road policies the economic corridor or "belt" will not only be a route for trade but an entire zone of economic development.
Traditional globalization started from Europe, but imploded with the USA multinational corporations. The principles of globalization formed the international order of the day that was west-centered ideologically and very much based on theory.
The expectation was that the East would follow the West. Farmers would abandon agriculture for the cities and become consumers. Inland development would follow coastal regions. But this approach resulted in unequal growth and proved ineffective in resolving poverty issues because by nature it created inequality and imbalance.
The past 30 years globalization changed the structure of international economic map by having the developed nations focus on financial markets and the trading of Internet securities. Some eighty percent of all financial wealth in America comes from arbitrage, the trading of debt, rather than from actual trade, investment and services. America's cities are empty of any real production or productivity China intends not to adopt this model but rather to build the Belt and Road model based on hard investments into infrastructure, manufacturing, processing, trade and services.
Moreover, the new approach offered by Belt and Road is to develop the interior first, to allow western and Central Asia together with countries like Mongolia and regions of central and western Russia to develop along with a matrix of inland cities and regions connected by the new inland infrastructure that Belt and Road is establishing.
The strategic vision is that this matrix of infrastructure accompanied by development corridors (the road + belt) will offer political stability through development. Social stability is important to the success of Belt and Road Belt and Road.
Consequently, Belt and Road projects must be sensitive to local conditions, culture, and environment to assure local development. This is necessary to guarantee that very stability required for Belt and Road to become a success. The two go hand in hand. That is why Chinese economists consider Belt and Road to be a fresh approach to globalization that is "inclusive" rather than the old western approach, which they view as "exclusive." Belt and Road is all about rebalancing development, to put forward a new kind of globalization that is inclusive rather than exclusive.
Belt and Road Benefiting Participating Countries
The scale of Belt and Road OBOR influence is unprecedented. To date there are 65 nations that have joined the Belt and Road OBOR multi-lateral process as partners. As of January 2023, 151 countries were listed as having signed up to the BRI. The participating countries include almost 75% of the world's population and account for more than half of the world's GDP.
China seeks to forge security in Belt and Road countries and regions through a process of connectivity involving: rail, road, trade, currency circulation, policy communication, cultural exchange in building trust based on practical project cooperation. Moreover, it is through the process of shared development that people will access the benefits of economic growth. Balanced development will widen the scope of education and business opportunities. With hope, people will seek to build and strengthen systems rather than revolt against them.
China is innovating a new approach to economic development based on its own experiences, and the needs of the countries that are Belt and Road partners. China will offer its manufacturing capacity, technology capability, project management experience, and hard finance to help other countries coming out from underdevelopment. The model is based on business cooperation rather than just aid. Financing will be key to the entire rollout of this policy. Hong Kong will be key to global financing.
How will One Belt One Road be Funded?
Key to the Belt and Road strategy is matching China's infrastructure, telecommunications, manufacturing and resource extrapolation through finance. The challenge is how to build a sufficient financial architecture that can meet the demands of developing nations. Since World War II the existing financial architecture for developing nations has been built around the World Bank and IMF, supported by aid agencies such as USAID from Washington, DIFID from London, or SIDA from Sweden for example.
Consequently, the policies and processes for developing nations to obtain financial support for key infrastructure and energy projects have been tied to conditions that are often based on the values and perceived needs of leaders in the developed western nations, rather than reflecting the needs of people in underdeveloped nations.
Through Belt and Road, China intends to change exactly this problem. Having been through the pains of development itself, China has a clear understanding of what it takes to pull out of poverty and move on the track to development. Core to this is the process of "sequencing" a term that refers to the building blocks of development. For instance, before you tell people that they should have the right to vote, people may need to first have electricity in their homes so that they can read what they are going to vote for. This may sound funny, but it is exactly the problem and challenge.
So without building the foundations for development, there can be no upward mobility of people. The driver for all development comes from the financial institutions that will lend and invest. China's view has been that the developing world needs new financial institutions that are sensitive to the practical needs of people coming out from underdevelopment.
Many of the underdeveloped nations are frustrated by the policies that have been imposed by western multilateral aid and development agencies. Consequently, they welcome the idea that China is supporting the establishment of new multilateral development banks. While China will take the lead as donor to these new financial institutions, other developing nations such as India and Russia are also founding members and donors. Consequently, the lending and guarantee policies of these multilateral development banks will adhere to the practical needs drawn from experience of these countries.
To date there are three key multilateral development banks and one dedicated China support fund that have been established within the Belt and Road framework. These include the Asian Infrastructure Development Bank (AIIB); the New Development Bank (formerly referred to as the BRICS Development Bank); the Silk Road Fund (not a multilateral institution as it is entirely China funded and managed); and the Shanghai Cooperation Group Fund. Each institution and the designated role that it is intended to play in the overall Belt and Road strategy. However, Hong Kong as China's international financing center will have the most important role to play as a nexus for all of these institutions.
Internationalization of the Yuan Currency
It is a logic step in China's increasing global presence and a core strategy of Belt and Road to integrate an internationalization of the Yuan as the next global reserve currency, at least for the nations participating in Belt and Road. China has long been wary of America's dominance in the global financial system. Given the power shifts in the global community one should not be surprised that China is creating a global financial system of its own. Belt and Road is the strategy for implementing such a system.
It did not happen overnight. Since the Asian Financial Crisis in 1997, China has sought means to expand the influence of its own monetary policy as a method of reducing risk associated with global currency and market fluctuations. The idea of creating AIIB and the Development Bank as new multilateral development banks for Belt and Road countries were greatly influenced by the concerns of China and other developing nations over the 2008 financial crisis and post crisis management.
The creation of these institutions also reflects China's frustration in the lack of gaining greater policy influence within the IMF and World Bank despite its large financial commitments to both organizations. Geo-political interests have limited China's influence and entry into the policy making club of developed nations. So why not go it alone and create new multi-lateral development banks and establish a new financial architecture through a club of the developing nations.
Since the Asian Financial Crisis in 1997, China has been deeply concerned with the overall exposure of Asian economies to global currency and market volatility. Recognizing early on that the US Dollar as global reserve currency, give the United States an overarching advantage if not control over global finance, China has had the long-held dream of evolving its own financial architecture.
This process began with the Chiang Mai Initiative during the 2008 global financial crisis when China together with other Asian nations established a currency stabilization fund. China was the main donor to the fund. It was clear to the Asian nations participating that China was prepared to take the lead in building an Asian resilience to the volatility of global markets.
Fast forwarding, the idea of establishing Asian-based and financed multi-lateral development banks offered a means and opportunity of establishing a parallel global financial architecture through institutions such as the Development Bank, AIIB and the Silk Road Fund. The question is, what will be the next second global reserve currency, and can the Yuan serve this purpose one day within the overall scope of the Belt and Road Belt and Road vision?
The standard IMF or World Bank advice to an underdeveloped or closed economy has been to immediately liberalize foreign exchange trading. This carries risks that China was not willing to undertake. Instead, adopting the step-by-step approach in Deng's adage about crossing rivers while carefully seeking the stones for the next steps China has adopted a very gradual yet effective sequencing toward internationalization of the Yuan currency. The Yuan will increasingly be used in cross border transactions in Belt and Road countries, until its influence becomes so strong that the Yuan becomes a Belt and Road reserve currency. Hong Kong as China's international financial and banking center as nexus for financing the Belt and Role will have a more important role to play in the future than any role it has played in its past.

The author is a US documentary filmmaker and a senior international fellow at the Center for China and Globalization.
The opinions expressed here are those of the writer and do not necessarily represent the views of China Daily and China Daily website.
If you have a specific expertise, or would like to share your thought about our stories, then send us your writings at opinion@chinadaily.com.cn, and comment@chinadaily.com.cn.
Most Viewed in 24 Hours
China Views