Surfing legend Slater still targeting Olympic swansong
Share - WeChat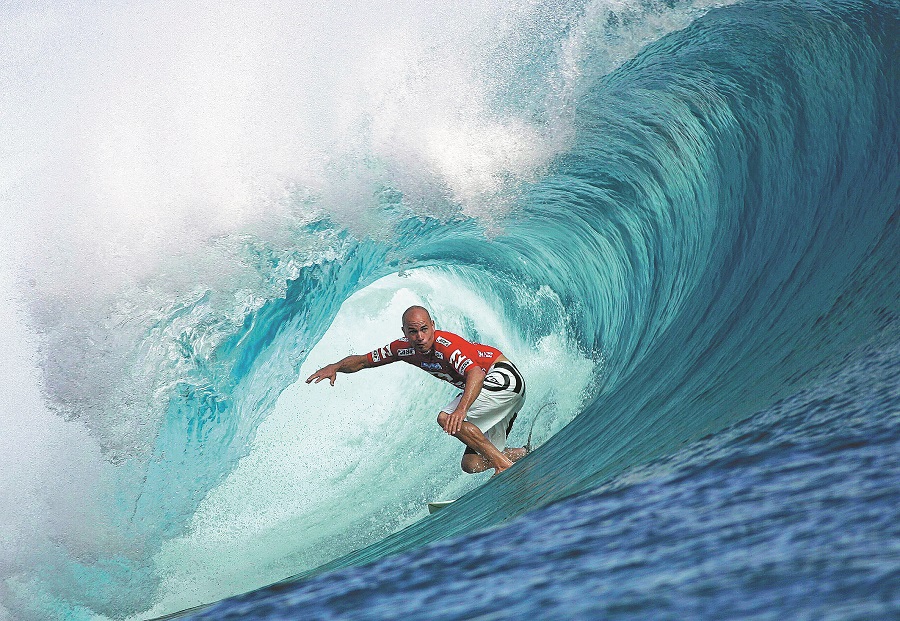 Kelly Slater is hoping he can pull off one more miracle as the most remarkable career in surfing draws toward a close, setting his sights on a narrow path to qualification for the Olympics being held next year in Tahiti's thumping tubes.
The 51-year-old American, world champion a record 11 times, was last month granted a wild card for the remainder of the World Surf League's (WSL) 2023 tour after he failed to make the midyear cut.
With WSL rankings taking precedence for Olympic qualification, the reprieve kept alive Slater's ambition to sign off his 30-plus-year professional career at Teahupo'o, the site of the event for the Paris 2024 Games.
"My hopes are still up for it and it would be a real dream come true for me to make that happen," Slater said.
"When I started, we didn't have surfing in the Olympics, so it was never my ultimate goal. That it has presented itself, it just lines up so well for me for when I want to stop competing.
"It would be an almost perfect time for me to call it a day as far as full-time competition."
Surfing joined the Olympics at the delayed Tokyo 2020 Games, with Slater just missing out on making the US team. He is currently well behind John John Florence, Griffin Colapinto and four other countrymen seeking only two places.
Few would write him off quite yet, however.
Slater has won every stop on the world tour among his unprecedented 56 victories and conjured some improbable comebacks since his first professional win as an 18-year-old in 1990.
And one further path to the Olympics is available. A win by the US men's team at the ISA World Surfing Games next year would earn it an additional spot at the Olympics.
Having won at Teahupo'o five times and made the semifinals there last year, Slater would be an obvious choice to take on the perfect, but dangerous, reef pass.
"I've obviously had a really good record at Teahupo'o," Slater said. "It's a wave that suits my strengths and I know the wave really well."
Missing out on the Olympics would not be the end of the world, Slater added, and he has alternative retirement plans on the cards "in the next year or two".
They would most likely involve a last ride as a professional at Hawaii's iconic Pipeline, where he stunned the world to win for a record eighth time last year.
"There are a lot of good outs for me — there's no bad path," said Slater, speaking ahead of the launch of a new company making sandals inspired by turtle shells and the moon.
"If I don't make the Olympics maybe I help out in some capacity there with the guys that do."
As well as designing sandals, surfboards, surf fins and a range of clothing, Slater also had a hand in designing groundbreaking wave-pool technology that he believes could play a role in Olympic competitions of the future.
The pools generate near-identical waves to order, taking out some of the luck factor in ocean surfing and allowing a more "apples to apples "comparison of skills, Slater said.
While pools also make scheduling of events much easier, the lure of the ocean is hard to resist for a man who has spent so much time in it.
"As far as fairness goes, it makes a lot of sense," he said. "But surfing is an artistic, creative thing and you're trying to decipher what nature throws at you."
Reuters