Bayern boardroom upheaval clouds title joy
Share - WeChat German giant in chaos as chief executive Kahn sent packing despite final-day Bundesliga drama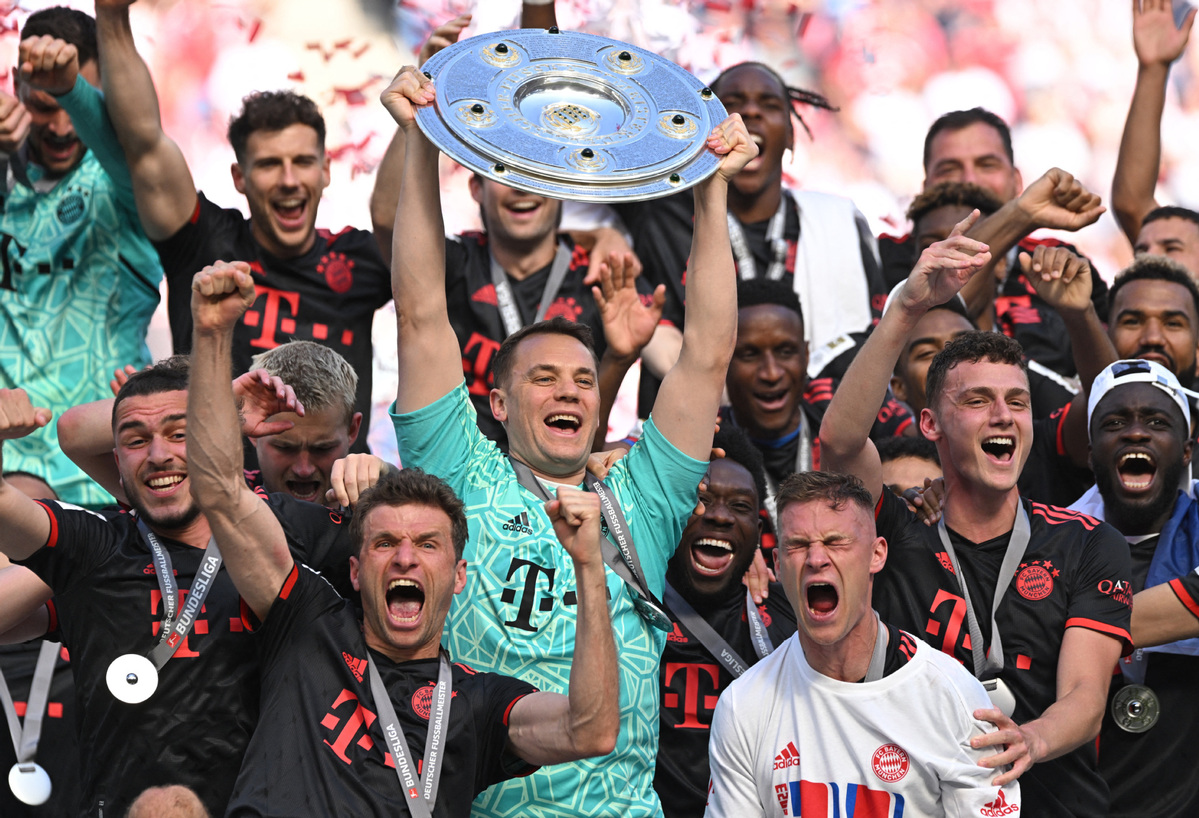 DORTMUND, Germany — Despite a record 11th straight Bundesliga title win, Bayern Munich's immediate future has been thrown into serious doubt after the shock sackings of CEO Oliver Kahn and sporting director Hasan Salihamidzic.
Manager Thomas Tuchel revealed the decision had been premeditated, regardless of the result of Saturday's matches.
"I've known since yesterday "Tuchel said, saying "the two of them were responsible for the journey we've been on together.
"I'm trying to process it now."
The drama continued after the sacking, with Kahn taking to Twitter and complaining he had been banned from the club's title celebration.
Kahn congratulated the team on its win, but said: "I would love to celebrate with you, but unfortunately I can't because the club has prohibited me from doing so."
'Feel the pressure'
Before the match, Dortmund looked set for a memorable championship win, having closed the gap to Bayern from nine points at Christmas to take a two-point lead into the final round.
A veteran of now 12 Bundesliga titles, Bayern captain Thomas Mueller piled on the pressure on Friday, unleashing mind games via social media, saying he knew Dortmund's players would be nervous.
"I think 200,000 to 400,000 fans will be expected at the championship celebration," Mueller wrote, adding: "If Dortmund wants to win, you have to stand up to (the pressure) as a player."
"I believe that the players will also feel this pressure and that's where my hope lies."
The side was 2-0 down after 25 minutes, with striker Sebastien Haller having missed a penalty.
While Dortmund fought back to draw 2-2, the point was not enough as Bayern won the title — its 33rd Bundesliga crown — on goal difference.
Bayern and Dortmund finished the season on 71 points, the lowest points total for a champion in Germany in more than a decade.
Muted celebrations
While much of the post-match focus was aimed squarely at Dortmund's inability to take advantage of a golden opportunity, Tuchel suggested the upcoming celebrations would be muted.
"Instead of celebrating, we now have another issue" the manager said in response to the sackings.
German soccer clubs give a greater degree of control to club officials than clubs in England and elsewhere, with Kahn and Salihamidzic seen as directly responsible for most aspects of management in recent seasons, including recruitment. They were behind the decision to sack coach Julian Nagelsmann and hire Tuchel in March, despite the manager having lost just three of 37 games in all competitions this season.
The two also signed off on the exit of record-breaking forward Robert Lewandowski to Barcelona.
Bayern still clearly misses the goals of Lewandowski, with none of the side's star-studded forward line stepping into the void.
The Pole scored 344 goals in 375 games for Bayern, winning the league in each of his eight seasons in Bavaria.
Lewandowski left Bayern frustrated at the public courting of then Dortmund forward Erling Haaland by Salihamidzic, later saying he felt disrespected after his service to the club.
Haaland eventually went to Manchester City and Bayern brought in Sadio Mane from Liverpool.
Mane, now 31, scored just seven league goals in 25 league games as he struggled with injury and form.
Bayern's best forward is the 20-year-old Jamal Musiala, with others like Serge Gnabry, Leroy Sane, Kingsley Coman and Mane failing to deliver consistently.
Money is also a major issue at Bayern, despite the club's domestic dominance in Germany.
Although Bayern may not splash the transfer cash to the same degree as its English and Spanish counterparts, the side's wage bill is reportedly higher than Manchester City, with several older players on long-term deals.
The average age of Bayern's squad is 26.5, one of the oldest in the Bundesliga and much higher than rivals Dortmund and RB Leipzig.
Mueller and injured goalkeeper Manuel Neuer are well over 30 and Tuchel failed to get the team to play in a consistent or fluid fashion.
While Bayern's domestic supremacy is assured, internal uncertainty and the rise of state-funded super clubs, such as City and Paris Saint-Germain, mean the German champion faces a cloudy future.
AFP
Most Popular
Highlights
What's Hot