'Snow' in May is a small price to pay
Share - WeChat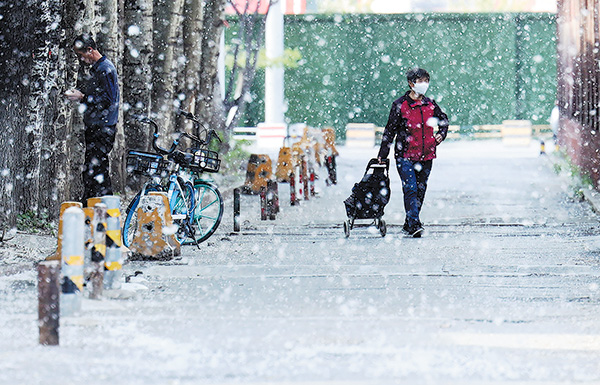 It happens every spring. As the flowers blossom, bringing color and fragrance back into our lives, Beijing's air fills with fluffy white invaders: airborne clumps of seed hairs that settle in heaps in corners, and drift like micro-tumbleweed across rooftops and streets.
They come from the hundreds of thousands of female poplars and willows planted around the city, each capable of contributing between one and three kilograms of the stuff every year.
Jokingly referred to as "snow in April" — although the "snow" lasts well into May and arrives in several waves — this annual invasion is the bane of walkers, cyclists, and scooter riders, largely because of its uncanny knack to find its way up nostrils, and into mouths and eyes.
As someone who delights in scootering around Beijing, it is irritating but, at worst, an encounter that necessitates no more than a quick stop to scrub the captive hair from an eye. But in some people, it triggers allergic reactions like rhinitis, asthma, and even dermatitis.
Apparently, it is also a fire hazard, and so is conscientiously swept away to avoid unfortunate encounters with errant cigarette butts.
As problems go, this one is new (ish). The trees were among many millions planted since the 1980s to surround Beijing with a green belt. This was not just to make the capital a more beautiful and pleasant place to live, but to keep a greater and more traditional nuisance at bay: sandstorms.
In that, they have largely succeeded, and while we have had a few more storms this year due to a couple of poor winters that have dried the vast plains of Mongolia more rapidly than usual — compared to 30 or 40 years ago, Beijing's sandstorm season is almost a thing of the past.
According to the Beijing Meteorological Observatory, there were an average of 26 days of dusty springtime weather in the 1950s, and into the 1960s, the capital was on the verge of desertification.
Naturally, remedying that was vital and, so, as part of the broader national effort to reforest, and keep deserts at bay, a green belt was planted in and around Beijing.
Poplars and willows were chosen for their resistance to cold, drought and pests. As they also require relatively little care and even less watering, they were the ideal choice for the pre-South-North Water Transfer Project city.
Focused on keeping sandstorms at bay, by the time authorities realized that female poplars weren't the right choice, too many had been planted to make chopping them down either feasible, or desirable. Exacerbating matters was the fact that many had been planted along streets or squares, hard surfaces where the seed hairs accumulate, only to be lifted into the air by passing cars or gusts of wind.
Two solutions have been found (well three if you include not planting more female trees). The first is a kind of birth control, and the second is a type of sterilization.
Birth control is administered in the form of an injection, which, like the flu vaccine, must be renewed yearly. It prevents female trees from producing catkins (and hence seed hairs), but isn't cheap, although it does result in the intriguing spectacle of bottles fixed, IV-style, to trunks. Sterilization, which involves removing the upper branches of a female tree and grafting male branches in their place, is even more expensive.
Consequently, neither approach has been widely used apart from around sensitive areas like hospitals, kindergartens and schools.
Poplars and willows are still being planted. They are, after all, hardy and do an excellent job of absorbing CO2, cooling the streets, and providing green relief, but female trees have been banned since 2015. As their numbers decrease, so will the April Snows. Thankfully, though, the protective effect of their millions of siblings will continue to make capital life more comfortable.
Most Popular