Show re-creates legendary tale
Share - WeChat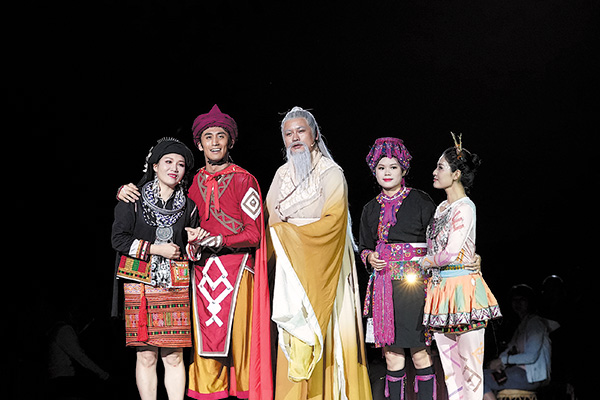 When Wuzhi Mountain, the highest mountain in South China's Hainan province, is mentioned, many people's first thought will be of the classic novel Journey to the West and its protagonist Sun Wukong, the Monkey King.
In the tale, the Monkey King tries to escape from the Buddha's hand, but the Buddha turns over his palm and changes his five fingers into a mountain — named Wuzhi Mountain — and traps the mischievous monkey for 500 years.
With this seemingly mythological connection to the popular literary figure, who travels with his mentor — the saintly monk Tang Xuanzang — to India to bring back holy scriptures and enlighten his countrymen, residents in the Wuzhi Mountain area, today's Wuzhishan city, have been inspired by the troublemaker-turned-hero's spirit for centuries.
This is how the story unfolds in the large-scale live performance, Adventures in Wuzhi Mountain, which debuted on April 30 in Shuiman township in the city of Wuzhishan.
At the beginning of the show, the kind and brave people of the Li and Miao ethnic groups rescue an infant wrapped in a red swaddling cloth from a flood, name him Shuiman and raise him. As Shuiman grows up, he adores the Monkey King and is later inspired to protect his hometown and its people.
"In the live performance, spectators can not only see scenes from the daily lives of the Li and Miao ethnic groups, and associate with the legend of the Monkey King, but also witness the growth of a young man, understand the Chinese national spirit and see the value of diligence, kindness, courage, tenacity, wisdom and unity," says Chen Lei, director of Adventures in Wuzhi Mountain.
Most Popular